Kelli O'Hara and Will Chase to Star in "Kiss Me, Kate"
Kelli O'Hara and Will Chase will star in a Roundabout revival of Cole Porter's Kiss Me, Kate in 2019, reprising their roles from a benefit concert in 2016.
---
Roundabout to Produce Revival at Studio 54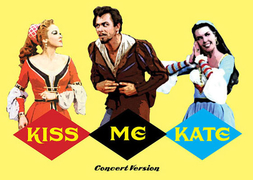 On February 14, 2019, a new revival of Cole Porter's hit musical
Kiss Me, Kate
will begin previews at the Roundabout Theatre Company's Studio 54, ahead of an opening night scheduled for March 14, 2019. Currently, the closing date is scheduled to be June 2, 2019. While most musicals open on Broadway for an undetermined run, hoping to last as long as possible, Roundabout generally operates differently, as they present a season throughout the year. In this case,
Kiss Me, Kate
may extend a little, but it is scheduled to close in early June 2019 in order to make way for the next show in the Roundabout season at Studio 54.
Kiss Me, Kate
first premiered on Broadway in 1948, winning five Tony Awards in 1949 including Best Musical. The last revival took place in 1999, when the show was nominated for 12 Tony Awards, winning 5 including Best Revival of a Musical. The show has a book by Sam and Bella Spewack, with music and lyrics by Cole Porter. Porter's other musical achievements include
Anything Goes
and countless others that have become less well-known over time, including
See America First
,
Hitchy-Koo
,
The Greenwich Village Follies
,
Paris
,
Fifty Million Frenchmen
,
Wake Up and Dream
,
The New Yorkers
,
Jubilee
,
Red, Hot and Blue
,
Leave it to Me!
,
Du Barry Was a Lady
, and
Panama Hattie
. Above all, however, Porter was a songwriter, and many of these shows were revues that, while the shows themselves may have faded into oblivion, the songs remain essential tunes from the American 20
th
century songbook. In the case of
Kiss Me, Kate
, this was the first of his shows to incorporate a score that was integrated directly with the book, and the songs from this piece include "Another Op'nin, Another Show," "I Hate Men," "Too Darn Hot," and "Brush Up on Your Shakespeare."
Scott Ellis Directs Kelli O'Hara and Will Chase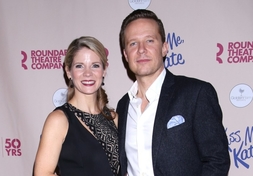 This production of
Kiss Me, Kate
will be directed by the Roundabout Adams Associate Artistic Director Scott Ellis, whose Broadway directorial credits include
She Loves Me
,
On the Twentieth Century
,
The Elephant Man
,
The Mystery of Edwin Drood
,
Harvey
, and
Curtains
. The choreographer is Warren Carlyle, whose Broadway choreography credits include
Hello, Dolly!
,
She Loves Me
,
On the Twentieth Century
,
After Midnight
,
A Christmas Story The Musical
,
The Mystery of Edwin Drood
, and
Chaplin
. The cast is led by two Broadway heavy hitters. The role of Kate and Lilli Vanessi will be played by six-time Tony Award nominee Kelli O'Hara. O'Hara's Broadway credits include
The Light in the Piazza
(2005),
The Pajama Game
(2006),
South Pacific
(2008),
Nice Work If You Can Get It
(2012),
The Bridges of Madison County
(2014), and
The King and I
(2015). She received Tony nominations for all of these performances, and then finally won the Tony Award for Best Lead Actress in a Musical for
The King and I
. Meanwhile, the part of Fred Graham and Petruchio will be played by Will Chase, whose Broadway credits include
Something Rotten!
,
The Mystery of Edwin Drood
(for which he earned a Tony Award nomination),
Nice Work If You Can Get It
,
The Story of My Life
,
Billy Elliot: The Musical
,
High Fidelity
,
Lennon
,
The Full Monty
,
Aida
,
Rent
, and
Miss Saigon
. These two performers, Kelli O'Hara and Will Chase, first starred in
Kiss Me, Kate
in a 2016 benefit concert production put on by the Roundabout Theatre Company. This is a rare chance to extend a benefit concert into a full-scale production. In addition, the creative team for this Roundabout production includes David Rockwell as the scenic designer, Jeff Mahshie as the costume designer, Donald Holder as the lighting designer, Brian Ronan as the sound designer, and David Brian Brown as the hair and wig designer. The rest of the cast will be announced at a later date.