Katharine McPhee Begins in "Waitress"
Smash Star Katharine McPhee Steps Into the Lead Part in Waitress, Previously Held by Jessie Mueller, Betsy Wolfe, and the Show's Composer, Sara Bareilles.
---
Waitress On a Roll with a String of Great Actresses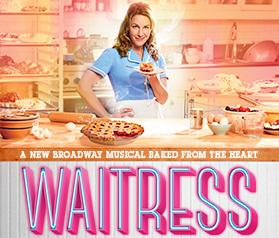 Waitress
(book by Jessie Nelson, music and lyrics by Sara Bareilles, direction by Diane Paulus), has been running since March 25, 2016, ahead of its opening night on April 24. The show has played over 850 performances, and still going strong, largely due to strategic casting choices. The original actress in the lead was Jessie Mueller, a Broadway favorite whose other credits include
Beautiful: the Carole King Musical
, and
On a Clear Day You Can See Forever
, and who can currently be seen in
Carousel
.
After a year, for which Mueller earned a Tony Award nomination, the role was taken over by Bareilles, the show's Grammy winning composer. Bareilles played that part for just two and a half months, and then the role was taken over by Betsy Wolfe through the beginning of 2018. Due to popular demand, and to help shepherd the show through the generally show winter season, Bareilles came back from January 16, 2018 to March 11, 2018, earning great revenue for the show, especially when she overlapped for two weeks with Jason Mraz.

Smash Star Makes Broadway Debut in Musical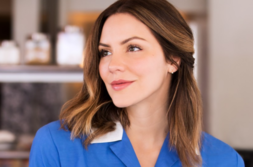 On April 10, 2018, Katharine McPhee stepped into the lead part of Jenna, in which she is scheduled to continue until June 17, 2018. McPhee is well-known for the Broadway-themed television show Smash but this marks her Broadway debut. On Smash, McPhee played Karen Cartwright, a budding actress from Iowa who was vying for the role of Marilyn Monroe in the fictional musical Bombshell, which, in the show, held an open call to find its leading lady. In the second season, McPhee's character then starred in a more experimental musical called Hit List, earning a (fictional) Tony nomination.

Unfortuntely for McPhee, though this is her Broadway debut, she will not be eligible for the real Tony Awards, as she is a replacement. While this is her Broadway debut in a real show, McPhee did perform a handful of songs from the Smash musical Bombshell in a one-night-only concert event in 2015 at Broadway's Minskoff Theatre. Prior to Smash, McPhee was a runner-up on the fifth season of American Idol in 2006. While she did not win that singing competition, it did launch her career.

McPhee's Musical Pedigree
The following year, she released a self-titled album with RCA Records, debuting at number two on the Billboard 200 list. Her top single from that album, Over It, was certified gold in 2008. She released her second album, Unbroken, in 2010, which included the single Had It All, and later that year, she released a Christmas album entitled Christmas Is The Time to Say I Love You. Her fourth album, Hysteria, was released in 2015, and her fifth album, I Fall in Love Too Easily was released in 2017.

Beyond Smash, her acting credits include the films The Lost Wife of Robert Durst, In My Dreams, Shark Night 3D, You May Not Kiss the Bride, and The House Bunny, as well as several guest appearances on television shows such as Family Guy, Lip Sync Battle, and Ugly Betty.
Discount Broadway Tickets
---
---