Jekyll & Hyde Prematurely Ends Broadway Run Today
Jekyll & Hyde, With Score By Frank Wildhorn, Closes At The Marquis Theatre After Just 15 Preview Performances And 30 Regular Performances At A Financial Loss
---
"Jekyll & Hyde" Concludes Its Broadway Run At The Marquis Theatre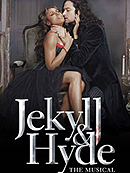 Today the revival of the musical Jekyll & Hyde, originally scheduled to run until June 30, concludes its Broadway run early. The production closes at the Marquis Theatre having played just 15 preview performances and 30 regular performances.
Based on Robert Louis Stevenson's story "The Strange Case of Dr. Jekyll and Mr. Hyde", the musical starred Constantine Maroulis as the split-personality title character. Deborah Cox co-starred and direction and choreography was provided by Jeff Calhoun (Newsies).
Frank Wildhorn Flops Again
Jekyll & Hyde originally opened on Broadway in 1997 and enjoyed a run that went through 2001. The score by Frank Wildhorn and Leslie Bricusse features many well-known songs, including "This Is the Moment," "Bring On the Men," "In His Eyes," "Take Me As I Am," and "Someone Like You".
Frank Wildhorn has created six original Broadway musicals in about 15 years, which have all met with poor critical review. This re-incarnation of Jekyll & Hyde at the Marquis Theater was directed and choreographed by Jeff Calhoun met the same critical fate, but unlike its predessor (that opened in 1997 and closed in 2001 and had over 1500 performances) it received poor critical review and poor box office ticket sales.
Financial Broadway Failure
The "Jekkies" that the previous run had spawned had either grown up or moved on as they were noticeably absent this time around. The 1997 version failed to recoup even after 1500 performances, sadly, this revival will not have the chance to build that kind of following and become a successful Broadway financial failure.