James Franco in 'Of Mice and Men' Begins Previews
---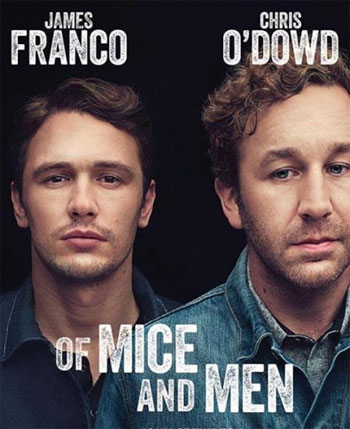 For the first time in 40 years, John Steinbeck's
Of Mice and Men
will hit the Broadway stage this evening: Wednesday, March 19, 2014. Adapted by Steinbeck from his novella of the same name, this play first premiered on Broadway in 1937, after which it was chosen as Best Play by the New York Drama Critics' Circle. In addition to a short-lived run from 1974 to 1975, this is the play's second Broadway revival. The new production, directed by Anna D. Shapiro (
The Motherf**ker with the Hat
,
August: Osage County
), is playing at the Longacre Theatre on West 48
th
Street. This production is unique in that the cast is led by three young Hollywood stars making their Broadway debuts. James Franco, the multi-talented actor, director, screenwriter, producer, teacher, and author (
Freaks and Geeks
,
James Dean
,
Oz the Great and Powerful
,
Spring Breakers
), stars as George, and Chris O'Dowd, known for the film
Bridesmaids
as well as the HBO / BBC series
Family Tree
, plays opposite Franco as his friend Lennie. Furthermore, Leighton Meester, who rose to fame by starring as Blair Waldorf on the CW's
Gossip Girl
, plays Curley's wife. The cast is rounded out by Tony Award winner Jim Norton as Candy, Ron Cephas Jones as Crooks, Alex Morf as Curley, Joel Marsh Garland as Carlson, James McMenamin as Whit, Jim Ortlieb as the Boss, and Jim Parrack as Slim.
Of Mice and Men
is the story of two migrant field workers in California during the Great Depression, holding onto their dream of becoming landowners one day. However, they encounter a menacing situation, confronted by the Boss' small-statured son Curley and his flirtatious wife. When Candy, an older one-armed ranch hand, offers to pitch in for the land in exchange for living on it, they think their future is set, but the tragic bonds of friendship interfere, and they fail to achieve the elusive American dream. Though the novella is often featured as required reading in many school curricula, it has also been the frequent target of censorship due to accusations of vulgarity. The book has also been adapted to the screen several times, in 1939, 1981, and 1992. The first film was nominated for four Academy Awards, including Best Picture, Best Original Score, Best Musical Score, and Best Sound Recording. The present production is lead produced by David Binder, with scenic design by Tony Award winner Todd Rosenthal (
August: Osage County
), costume design by Suttirat Larlarb, sound design by Rob Milburn and Michael Bodeen, and lighting design by Japhy Weideman.
Discount Broadway Tickets
---
---