It's Raining Cats and Dogs on Broadway
The 14th Annual "Broadway Barks!" Celebrity-Studded Event Will Take Place July 14th With Proceeds Benefiting New York City's Animal Shelters And Adoption Agencies
---
14th Annual "Broadway Barks!" Star-Studded Event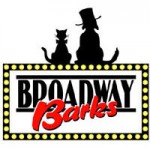 The 14th annual Broadway Barks! adoption event hits the Great White Way this coming Saturday, July 14. Held in Shubert Alley (located between 44th and 45th streets, between Broadway and Eighth Avenue), Broadway Barks! is a celebrity-studded event that benefits New York City's animal shelters and adoption agencies.
As usual, animal lover and Broadway legend Bernadette Peters will be hosting Broadway Barks! with fellow animal lover and TV legend Mary Tyler Moore. Along with a slew of other celebrities, they will be raising awareness, auctioning off autographed memorabilia, and helping adorable shelter animals find permanent homes.
Broadway Performers Include Angela Lansbury And Audra McDonald
The long list of famous folks who will be participating in Broadway Barks! this year includes such Broadway performers as Angela Lansbury, Linda Lavin, Joel Grey, Bebe Neuwirth, Jeremy Jordan, Audra McDonald, Carol Kane, and Steve Kazee. The event starts at 3:30pm, with the celebrity presentations of animal shelter pets taking place from 5pm to 6:30pm. Find out more info about Broadway Barks!