"It's Only a Play" Opens on Broadway
It's Only A Play Opened On October 9, 2014. Though Reviews Were Mixed, Ticket Sales Are Already Outstanding With Star-Studded Cast Bringing In Audiences.
---
Ticket Sales Anticipate Reviews

On October 9, 2014, It's Only a Play opened at Broadway's Gerald Schoenfeld Theatre, after having played 48 preview performances since the first on August 28, 2014.
Generally, an opening night is vital for a show to gain traction after reviews hit the press, but in this case, the reviews were all but unnecessary. The show is already almost completely sold out until the end of its run, currently scheduled for January 4, 2015.
"It's Only A Play" Bringing In Excellent Ticket Sales
In every single week that the show has been running, it has brought in over 100% of its gross box office potential, due to premium ticket sales on top of outstanding regular-priced sales. Discounts are not part of the equation in this case. In the first partial 5-performance week ending August 31, 2014, the show earned 112.45% of its gross potential.
In the full 8-performance weeks following, the show has unfailingly passed the million-dollar mark on each occasion. In order, from the week ending September 7, 2014 until the most recently reported week ending October 12, 2014, the weekly grosses were: $1,163,626, $1,230,603, $1,277,059, $1,261,025, $1,248,660, and $1,173,896. The reason for this outstanding box office performance can be summarized in two words: star power.
Chock Full Of Stars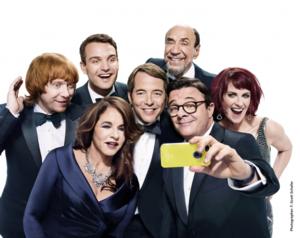 With regards to attracting ticket buyers, the most important names associated with this production are its actors. First of all, the production reunites Nathan Lane and Matthew Broderick who made Broadway history with their performances in 2001's The Producers.
Beyond the combination of this power duo, each has individually earned a remarkable series of accolades, including two Tony Awards a piece: Lane earned the Best Actor honor for The Producers and A Funny Thing Happened on the Way to the Forum, and Broderick earned the same for Brighton Beach Memoirs and How to Succeed in Business Without Really Trying.
Rupert Grint Makes His Broadway Debut
They are joined by Stockard Channing, who came to fame with the film Grease, and earned a Tony Award for A Day in the Death of Joe Egg. In addition, F. Murray Abraham won an Academy Award for 1985's Amadeus and is a seasoned veteran of stage and screen. Furthermore, the cast includes Rupert Grint making his Broadway debut, and yet he may hold the honor of having been seen by the most eyeballs due to his starring as Ron in the Harry Potter franchise.
On top of the stellar cast, rounded out by Megan Mullaly and Micah Stock, the playwright Terrence McNally has had a remarkable 21 productions of his plays on Broadway, and the director Jack O'Brien has helmed at least 26 shows on Broadway (winning three Tony Awards with an additional seven nominations), also serving as the artistic director of the Old Globe Theatre in San Diego from 1981 to 2007.
Critical Appreciation, With Some Reservation
In general, the reviews are positive though some are mixed. In particular, Ben Brantley of The New York Times saw through the starry exterior and reviewed the play on its merits. He remarked how McNally revised the script to be more up-to-date. As the play, originally written in 1982, has some antiquated references, newer stars such as James Franco, Rosie O'Donnell, and Denzel Washington were swapped in for their written predecessors.
Most notably, the respected theatre critic Frank Rich was swapped out for none other than Brantley himself. He responded to this fact with sufficient grace and only mild resentment, explaining that the entire premise of the play was to throw mud at famous names, whether those of critics or actors. In any case, he was fully aware that his review would not be affecting ticket sales, which are already more victorious than any written assessment of the play's merits could expect to be.