"It's Only a Play" Extends Until June
It's Only A Play has extended until June from its original closing date of March 29. Matthew Broderick has extended until at least March, and Nathan Lane has left.
---
Excellent Sales On Broadway And A Chance To Earn More

Jack O'Brien's production of Terrence McNally's It's Only a Play, which had previously been expected to conclude its run on March 29, 2015, has now announced that tickets are on sale until June 7, 2015.
The starry cast has drawn excellent box office response since the play begin previews on August 28, 2014, and has continued to perform marvelously since the opening night of October 9, 2014. The high-profile cast members include Nathan Lane and Matthew Broderick, who are reunited following their history-making run in Mel Brooks' musical The Producers.
"It's Only A Play" Star-Studded Cast
The stars don't stop there, as Lane and Broderick are joined by Stockard Channing (Grease, Other Desert Cities), Rupert Grint (Ron from the Harry Potter movie franchise), F. Murray Abraham ( , and Megan Mullaly, along with newcomer Micah Stock. Rupert Grint, Nathan Lane, and Megan Mullaly played their last performance on January 4, 2015.
However, when Matthew Broderick announced that he would extend until at least March to star alongside Martin Short, the show got another breath of life.
Box Office Declined After Nathan Lane's Departure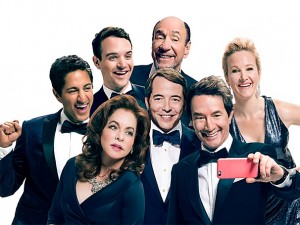 It's Only a Play was a miraculous box office performer this season, earning more than 100% of its gross potential every single week since it began previews – that is, until the second week in January 2015. As soon as Nathan Lane, Rupert Grint, and Megan Mullaly stepped out of the show, ticket sales declined enormously.
The show's weekly gross record was earned in the week ending January 4, 2015, which was the exact day that those three actors left the show. It is likely that Nathan Lane was the biggest ticket seller, with Rupert Grint also attracting a different demographic to the audience.
Matthew Broderick Is Not Enough To Sustain Alone
With the loss of those two huge names, it became apparent that Matthew Broderick alone was not a big enough name to sustain the hyperbolically high ticket sales.
In the week immediately following, the week ending January 11, 2015, the weekly gross went down by $764,914, resulting in a gross of $690,904, which represented only 60.79% of the gross potential. Furthermore, the average paid ticket went down from $171.68 in the week ending January 4, 2015, to $88.95 in the week ending January 11, 2015. In the four weeks since, the show has still been struggling. Most recently, in the week ending February 1, 2015, the show only brought in $513,389, which is only 44.21% of its gross potential.
Optimism About The Spring Season
The decision to extend the show until June demonstrates that the producers felt optimistic that ticket sales would pick up along with the temperature. The months of January and February are traditionally very slow on Broadway, and March brings the opening of many new shows in the spring season. Therefore, it is a risky choice to extend a show from the fall season into the spring, as it will need to compete with all of the new fare.
However, the producers must have felt confident that they had a hit show, and that even without Nathan Lane and the other early deserters, that they would attract enough interest with the second-tier cast and very hyped production. It definitely helps that Matthew Broderick has extended until March 29, 2015, although he will be out from March 4 to 21, 2015. It is not yet clear whether Broderick will remain with the show through the final three spring months, or whether Martin Short and the other cast members will stay.