In the Heights Cast Reunion Concert
The Broadway Musical In The Heights Will Feature A Reunion One-Night-Only Performance Event At The United Palace Of Cultural Arts
---
Broadway Musical In The Heights One-Night-Only Event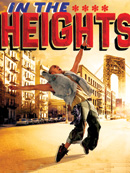 The 2008 Tony Award winner for Best Musical, In the Heights, is soon to make an appearance in the very neighborhood that the musical celebrates, Washington Heights. The Broadway musical sensation is getting a revival of a sorts during a one-night-only concert to be held at the United Palace of Cultural Arts (located at Broadway and 175th Street) on February 11.
The In the Heights concert will feature members of the show's original Broadway cast and the national tour cast, including star (and co-writer) Lin-Manuel Miranda, Christopher Jackson, Karen Olivo, Mandy Gonzalez, Robin De Jesus, Janet Dacal, and Olga Merediz.
Proceeds Benefiting Washington Heights
Part of the proceeds from the In the Heights concert will go to support arts programs in Washington Heights, as well as The Broadway League's Family First Nights, a program designed to encourage at-risk families to regularly attend theater. The event is being organized by The Broadway League's "Viva Broadway" initiative, which was established in order to help increase theater attendance among Latino audiences across the nation.