Ice Skater Elvis Stojko Coming to Broadway
Long-Running Broadway Musical Chicago Is Known For Utilizing A Wide Array Of Performers From Pop Stars To TV Personalities To Ice Skaters
---
Broadway Musical "Chicago" Utilizing Stunt-Casting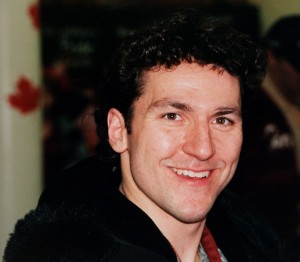 The Tony Award winning, long-running Broadway musical revival Chicago has been known (and sometimes mocked) for many years for its enthusiastic use of stunt-casting. Bringing in a wide array of performers -- from pop stars to TV personalities to has-been celebrities -- to play some of the musical's key roles has become a hallmark of the production.
Now Chicago looks to the world of competitive figure skating to bring in its latest unexpected star, Elvis Stojko. Stojko will take on the part of "razzle dazzle" lawyer Billy Flynn starting March 17, 2014. However, he is only scheduled to do a total of eight shows, performing until March 23.
Elvis Stojko: Prominent Ice Skater
Elvis Stojko came to prominence as an ice skater in the 1990s, when he earned three world championships and two silver medals in the winter Olympics. Besides skating, Stojko has also taken guest roles in television and film and has even released a CD. "People think of me as only a skater," stated Stojko. "But what they don't know is that I love musicals. Now I finally have the chance to play a great role in one of the greatest musicals of all times."
Past instances of stunt-casting in Chicago have been many and varied. Usher, Jerry Springer, Brooke Shields, Huey Lewis, Patrick Swayze, Billy Ray Cyrus, Alan Thicke, Melanie Griffith, Ashlee Simpson, Wendy Williams, Marilu Henner, George Hamilton, Christie Brinkley, Kara DioGuardi, and Sofía Vergara are just a few of the people who have been tapped to feature in Chicago over the years, with many of them making their Broadway or stage debuts in the production.
Chicago The Musical Has Been Playing On Broadway For More Than 15 Years
Billy Flynn, the part that Elvis Stojko will be playing, is the role most often filled by male stars, though on some occasions it's Amos Hart. For female performers with limited stage experience (but who can still belt a song), Matron Mama Morton is a common option. But even the key dancing roles of Roxie Hart and Velma Kelly are sometimes filled by stunt-casted performers.
Chicago the musical, which has been playing on Broadway for more than 15 years, performs at the Ambassador Theatre (219 West 49th Street) in New York City. For tickets and other information about the show, go to chicagothemusical.com.