Henry Winkler and Cheyenne Jackson in "The Performers" - Broadway Show Review
Henry Winkler And Cheyenne Jackson Star As Part Of An Ensemble Cast In "The Performers" That Missed The Mark With Broadway Audiences And Critics
---
Talented Cast Of "The Performers" Disappoints Audiences
If you anticipate that Henry Winkler's "Fonz" from Happy Days and Alicia Silverstone's "Cher" from Clueless will turn up onstage at the Longacre Theatre for the Broadway production of The Performers, you may be disappointed.
But who does turn up are a wonderful ensemble of actors performing a funny yet poignant romantic comedy about two couples from very different backgrounds, both with relationship problems, thrust together against the unique backdrop of the Adult Film Awards in a Las Vegas hotel.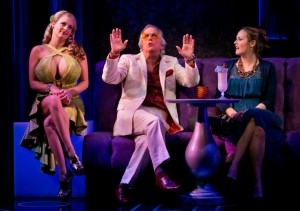 Ensemble Cast Of "The Performers"
Cheyenne Jackson plays successful porn star Mandrew, who loves his work and is hoping to win this year's coveted adult film award for best actor. He is married to a porn actress, Peeps, played by Ari Graynor, who is a needy, simple-minded, but lovable companion in dire need of a life rudder, which Jackson provides perfectly.
Alicia Silverstone plays Sara, a plain schoolteacher who has lost her passion for her fiance Lee (Daniel Breaker), the only person she has ever slept with.
Henry Winkler Transforms Into A Porn Star Adversary
Added into the mix is Henry Winkler as Chuck Wood, Mandrew's porn star adversary (who is also up for the same award), and porn actress Sundown LeMay, played by Jenni Barber, who manages to create amusing havoc along the way.
Although Mandrew anticipates winning a number of honors at the Adult Film Awards, the gods may have other plans for him as he circumnavigates his relationship with Peeps, tries to recapture his friendship with his high school friends Sara and Lee (who happen to be in town to write a piece about him for the New York Post), and attempts to defeat the aging Chuck Wood for the most coveted award.
Evan Cabnet Burns His Britches, His Bridges Are Just Fine
With David West Read's writing and Evan Cabnet's direction, this hilarious play takes us on a comedic trip through the trials and tribulations of an adult film couple's relationship when it crashes into a couple at the other end of the sexual spectrum. The comedy reminds us that adult film stars are not that different from the rest of us after all, albeit with their preference for close-up bukake action face shots.
Cheyenne Jackson provides an amazing performance and captures a handsome but dimwitted Adonis working in a industry that he loves. When out of his element, Mandrew becomes confused and often draws on his only frame of reference, the porn industry, delivering hysterically funny responses with perfect timing. Jackson's performance is an ideal balance of funny and touching.
Ari Graynor Holds Her Own
Opposite Jackson, Ari Graynor plays a very similar character to the one she recently played in her movie For a Good Time, Call... She delivers a sound performance as Peeps in this show, but it remains to be seen if she has the acting chops for anything outside the ditzy, confused simpleton.
There were signs of hope when her character began to develop beyond the two-dimensional, but it appears that Cabnet's direction may have stopped her character development in its tracks. Silverstone's whiny Clueless line delivery does creep into a few scenes as she fleshes out the plain, sexually bored teacher opposite Daniel Breaker's Lee.
Alicia Silverstone Stumbles On Broadway
The infamous Howard Stern has often been quoted as saying that, "Actors who can only shine as retarded or drunk characters aren't often strong enough actors to capture the nuances of real, more subtle, less caricature characters." This may be true of Silverstone's performance.
The only time in this show where Silverstone really only comes into her own is when she is playing the falling down drunk version of Sara and yells at Chuck Wood to "Get me a coffee, bitch!"
Show Writer, David West-Read, Turns in a Dismal Performance
Daniel Breaker does, however, shine as the hapless reporter trying to keep his marriage together during a difficult, often turbulent time. His portrayal of Lee is developed perfectly as his character becomes better educated in the world of sex, something that Lee is clearly unfamiliar with and demonstrates to great comedic effect.
It is clear David West Read hasn't seen too many porn movies, nor actually met any porn actors, because his caricature of the talent is so far off the mark. With an "everyone in the industry is a moron" approach, it's more pandering than a gross mis-characterization, but often straying into extreme stereotypes that don't add any funny to the scenes and with so many missed opportunities.
"The Performers" Storyline
The show's dialogue may give some insight into Read's exposure to porn when Sara indicates that she knows about the porn industry from reading a paper during her work on her master's degree. Methinks that David West Read is referring to himself. Jenni Barber's stage talent is virtually untapped in this show, with her portrayal of a one-dimensional dumb blonde porn actress, the epitome of the Hollywood bimbo.
One key final scene with Winkler is squandered to tepid sexual humor, when Read could have written just one line, just one line in the whole show, that would have established that, maybe, Sundown LeMay was the genius and we were the bimbos. The small disappointment in The Performers is Winkler as Chuck Wood.
Henry Winkler Fails To Delivery On Broadway
It appears that Winkler, a veritable national treasure, can only play two characters: The Fonz and Henry Winkler. It is Henry Winkler who shows up for this show, and although it is a great honor to be in his presence, he fails to bring any depth to Chuck Wood, an over-the-hill porn star who knows that his career is over and his demise is near, but cannot quite quit before he crashes into the wall, because porn is all he has.
Winkler has some great opportunities with his scenes and delivers on a key monologue that contains heart and humor, but his performance overall ultimately falls flat as does his interaction with the other actors. The Performers is a funny romantic comedy farce, with lots of heart, but ultimately a little disappointing. We anticipate it may go straight-to-video -- right after the money shot.