"Heisenberg" Gets Rave Reviews on Broadway
Heisenberg Is Up And Running At The Samuel J. Friedman Theatre, Having Received Great Reviews From Critics But Still Modest Box Office Performance.
---
Mary-Louise Parker And Denis Arndt Play Opposite Each Other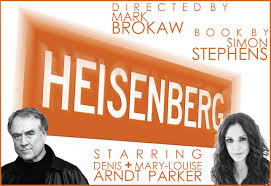 This past week, Heisenberg had its official opening night at the Samuel J. Friedman Theatre in a Manhattan Theatre Club production. The show had been running in previews since September 20, 2016, and it is scheduled to run for a limited engagement until December 11, 2016.
At that point, the venue will vacate for the revival of August Wilson's Jitney, the next show in the Manhattan Theatre Club season, which will begin previews on December 28, 2016. Heisenberg is a two-hander starring Mary-Louise Parker and Denis Arndt, both of whom are reprising roles that they originated Off-Broadway in 2015 at MTC's Off-Broadway venue, New York City Center Stage II.
Directed By Mark Brokaw
Like that production, this Broadway transfer is also directed by Mark Brokaw, whose previous Broadway credits include The Lyons, Rodgers + Hammerstein's Cinderella, After Miss Julie, and Cry-Baby. The play is written by the British playwright Simon Stephens, who has had several of his plays performed in New York.
Most notably The Curious Incident of the Dog in the Night-Time premiered on Broadway on September 10, 2015, following a transfer from London's West End, and prior to that, the Royal Court Theatre; it then took home the Tony Award for Best Play. After such a warm reception for the Off-Broadway production of Heisenberg, along with the awards success of Curious Incident, the decision was made to bring the show to Broadway.
A Vibrant And Emotionally Charged Chemical Relationship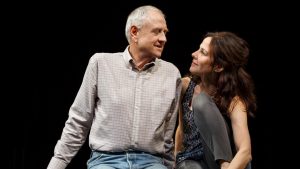 Critics far and wide praised Heisenberg for being an emotionally vibrant and dramatically sizzling production. Ben Brantley of The New York Times, despite admitting that he groaned when he heard the show was transferring to Broadway, ended up declaring the play a Critics' Pick and stating that the uncertainty exhibited in the production was nothing short of thrilling.
Breanne L. Heldman from Entertainment Weekly was also in awe of the show, summarizing it as a study of what happens when stillness meets constant movement, quiet collides with nonstop noise, and humor merges with sadness.
Mostly Positive Reviews From Critics
Adam Feldman from Time Out New York found the show sweet and surprising, enjoying how the play was carefully crafted and maintained a liberating smallness. Linda Winer writing for Newsday was also in love with the show, remarking that its offbeat, enchanting brilliance holds through in the Broadway production.
Only Matt Windman of AM New York was less blown over by the show, calling it a pensive romance and questioning whether the title Heisenberg was appropriate for a show that was not directly about science.
Modest Box Office Performance For This Quiet Piece
In the last reported week of box office figures, the week ending October 16, 2016, Heisenberg brought in a weekly gross of $297,088, which represents 40.93% of its gross potential. With a top ticket price of $160.00, the average paid admission was $58.86, and the audience was filled up to 95.3% of its capacity.
Over the four weeks that this show has been running thus far, the average percentage reached of gross potential overall was 44.03%. However, unlike the purely commercial productions on Broadway, Heisenberg is a presentation of the Manhattan Theatre Club, which offers lower-priced tickets to its subscriber base, and is generally less concerned with recoupment due to its built-in endowment.
Quality Of The Play Draws Audience
This allows the company to be more concerned with narrative quality than star attachments, and although Mary-Louise Parker, and to an extent Denis Arndt, are significant names, it is the quality of the play that attracted these actors to agree to be in it, just as much as it is the moving nature of the piece that persuades ticket buyers to find their seats.