"Heisenberg" Begins Previews with Mary-Louise Parker
Heisenberg Began Previews On September 20, 2016 Ahead Of An Opening Night On October 13, Starring Mary-Louise Parker And Denis Arndt.
---
Simon Stephens Broadway Play In A Manhattan Theatre Club Production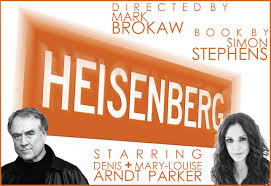 On September 20, 2016, previews began for Simon Stephens' play Heisenberg, which comes to Broadway's Samuel J. Friedman Theatre following a successful Off-Broadway run in summer 2015 at Manhattan Theatre Club's Off-Broadway venue at the New York City Center, Stage II.
Heisenberg will have its official opening night on October 13, 2016, and is presently scheduled to run for a limited engagement until December 4, 2016. The playwright, Simon Stephens, is the same person who penned last year's Tony Award winner for Best Play, The Curious Incident of the Dog in the Night-time, which recently concluded performances on September 4, 2016.
Starring Mary-Louis Parker And Denis Arndt
Heisenberg is directed by Mark Brokaw, who also directed the Off-Broadway run, and whose other Broadway credits include Rodgers + Hammerstein's Cinderella, The Lyons, After Miss Julie, and Cry-Baby. This two-hander stars Mary-Louise Parker as Georgie Burns, and Denis Arndt as Alex Priest, both of whom are reprising their roles from the Off-Broadway production.
Mary-Louise Parker is a Manhattan Theatre Club regular; she won a Tony Award in 2001 for her performance in Proof, which, like Heisenberg, transferred to Broadway following an Off-Broadway production at the Manhattan Theatre Club.
A Sparring Match And An Unexpected Journey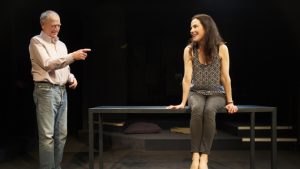 Heisenberg is a comedic and fascinating play that depicts an unexpected encounter between Georgie (Mary-Louise Parker) and Alex (Denis Arndt), a much older man. When she plants a kiss on his neck, and the two individuals are thrust into an electric encounter wherein her gregarious personality clashes with his inhibition, until the two of them have no idea where they have come to.
When the play premiered Off-Broadway in summer 2015, it was selected as a New York Times Critics' Pick, and received positive reviews from numerous publications. Ben Brantley from the New York Times particularly praised Mary-Louise Parker's performance, stating that her performance, like the play, deserves to be attended to carefully.
"Heisenberg" Garners Positive Reviews

He also complimented the work by saying that its unheard melodies linger on, long after you've left the theatre. In addition to her stage roles, Mary-Louise Parker is well known for her starring role on Showtime's "Weeds," as well as films such as Fried Green Tomatoes, Boys on the Side, and Angels in America, which earned her both an Emmy and a Golden Globe Award for Best Supporting Actress. As for Denis Arndt, he is well known for such films as Basic Instinct, S.W.A.T., Bandidas, and Metro.