"Hedwig and the Angry Inch" Recoups on Broadway
Hedwig And The Angry Inch Recoups On Broadway In Only 15 Weeks. With A Budget Of $5 Million, The Show Did Better Than Anyone Expected.
---
An Astounding Success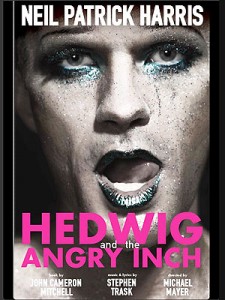 John Cameron Mitchell's glam rock musical about a German transvestite has turned a profit on Broadway. Starring Neil Patrick Harris, Hedwig and the Angry Inch began its Broadway premiere at the Belasco Theatre on March 29, 2014, with its official opening on April 22, 2014.
Though this is the first time the show has been in a Broadway theatre, it was considered a revival for purposes of Tony consideration because it premiered Off-Broadway and has had many productions around the world, as well as a feature film adaptation.
"Hedwig And The Angry Inch" Nominated For Eight Tony Awards
In that regard, the show scored big at the Tony's. It was nominated for eight awards, winning four: Best Revival of a Musical, Best Performance by an Actor in a Leading Role in a Musical (Neil Patrick Harris), Best Performance by an Actress in a Featured Role in a Musical (Lena Hall), and Best Lighting Design of a Musical (Kevin Adams).
Neil Patrick Harris To Be Replaced By Andrew Rannells After August 17th
Though the production was originally slated to have a limited engagement concluding on August 17, 2014, the show has announced that it will remain open due to robust ticket sales. Instead, the star performer will be replaced by Andrew Rannells, who made a name for himself by starring as Elder Price in the original Broadway cast of The Book of Mormon, and who is also a regular cast member on HBO's "Girls."
Though the excellent box office performance was due in part to the star power of Neil Patrick Harris, the show has now laid firm ground for continued success, and Rannells will certainly shine in the lead part. The big question is whether the profits will continue to be as astounding with Rannells in the part.
A Financial Slam Dunk
The show recouped in a magnificently efficient 15 weeks. Though the budget was exceedingly low for a musical at only $5 million, the critical and commercial was better than anyone could have expected. The recoupment occurred in the week ending July 13, 2014.
In that week, the musical grossed $1,072,311, which was 128.51% of its gross potential. In the week ending July 20, 2014, the show did even better, reaping in $1,088,660, which was 130.47% of its gross potential.
Broadway Audiences Vying For Seats
Though that was the highest gross potential percentage for the production to date, it has consistently been well over 100%, with only 2 weeks near the start of the run when the show made less than 100% of its gross potential.
The top ticket price is $248, which is lower than some, and the average ticket price has always been over $100, generally closer to $150 in recent weeks. This demonstrates extreme demand for the show, as discounting is not at all necessary, and audience members are vying for limited seating availability.