Harry Potter Parody - Potted Potter - Returning To Off-Broadway
Potted Potter: The Unauthorized Harry Experience - A Parody By Dan And Jeff Returns To Off-Broadway For A Limited Run, After A Successful National Tour
---
Harry Potter In Just 70 Minutes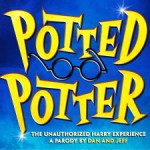 Following a national tour, Potted Potter: The Unauthorized Harry Experience - A Parody by Dan and Jeff returns to Off-Broadway this summer to play a 13-week engagement at the Little Shubert Theatre. The production had a successful limited run at that same venue last summer.
Potted Potter is written and performed by Jefferson Turner and Daniel Clarkson, who give audiences a whirlwind re-enactment of all seven Harry Potter books in just 70 minutes. The show features songs, props, theatrical magic, and numerous costume changes, not to mention its signature event, a Quidditch game that the audience participates in.
Off-Broadway Performances Will Begin On May 30th
Starvox Entertainment president Corey Ross said in a statement, "Potted Potter is a wonderfully entertaining time for all ages, both fans and neophytes of the Harry Potter phenomenon alike." Performances will begin on May 30, and the production will run through September 1. Perfect for teenagers during the summer vacation.