"Harry Potter and the Cursed Child" Begins Previews
Harry Potter and the Cursed Child Has Begun Previews At The Lyric Theatre, Directed by John Tiffany And Produced By Sonia Friedman And Colin Callender
---
J.K. Rowling Extends the Harry Potter Story in Two Plays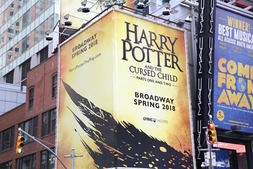 On March 16, 2018,
Harry Potter and the Cursed Child
began previews at the Lyric Theatre, ahead of an opening night scheduled for April 22. This two-play epic story is not a musical, which might be expected among fans accustomed to seeing their beloved source material sprinkled with musical pizzazz in order to make it to Broadway. However, the
Harry Potter
brand name knows no rival in terms of reach and power, and it is to the great credit of J.K. Rowling and her producers Sonia Friedman and Colin Callender that the decision was made to take this in a different direction.
Ultimately, the double bill immediately doubled their ticket revenue potential, as many diehard fans wouldn't blink at spending twice as much, even at exorbitant Broadway prices, in order to see the entire experience. Audience members can opt to see the two plays on one day or on different days, and it is encouraged to see them both. In crafting the script for this play, J.K. Rowling wrote a story in collaboration with Jack Thorne (
King Kong
) and the director John Tiffany (director of
Once
,
Macbeth
,
The Glass Menagerie
), and then Jack Thorne wrote the scripts.
19 Years After The Deathly Hallows Left Off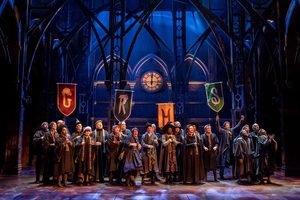 Rather than rehash the beloved books and movies, Rowling and team created an entirely new story. The plays begin 19 years after the
Harry Potter
books end, and the principal characters, Harry Potter, Ron Weasley, Ginny Potter, Draco Malfoy, and Hermione Granger, are all adults. While they are definitely still characters in these plays, the stories encompass multiple generations, as their children are at Hogwarts. This incarnation allows an entirely new generation of Hogwarts students to discover the eccentricities of the wizarding school, while creating a relatable storyline involving parents' concern for their children.
The Broadway production features the same lead cast as the London production, which opened in July 2016 and won a record-breaking nine Olivier Awards, including Best New Play, Best Director, and Best Actor for Anthony Boyle in his portrayal of Scorpius Malfoy, Draco's son. The additional London stars reprising their roles are Jamie Parker (The History Boys) as Harry Potter, Noma Dumezweni as Hermione Granger, Paul Thornley as Ron Weasley, Poppy Miller as Ginny Potter, Sam Clemmett as Albus Potter, and Alex Price as Draco Malfoy.

Rounding Out The Cast And Creatives
In addition to direction by John Tiffany, the show has movement by Steven Hoggett, scenic design by Christine Jones, costume design by Katrina Lindsay, lighting design by Neil Austin, sound design by Gareth Fry, and illusions & magic by Jamie Harrison.

The additional actors make up a large ensemble, including David Abeles, Brian Abraham, Shirine Babb, Jess Barbagallo, Stephen Bradbury, Lauren Nicole Cipoletti, Joshua De Jesus, Jessie Fisher, Richard Gallagher, Susan Heyward, Geraldine Hughes, Edward James Hyland, Byron Jennings, Katie Kreisler, Joey LaBrasca, Andrew Long, Kathryn Meisle, Angela Reed, Dave Register, Adeola Role, James Romney, Malika Samuel, Alanna Saunders, David St. Louis, Stuart Ward, Madeline Weinstein, Alex Weisman, and Benjamin Wheelwright. Meanwhile, the London show is ongoing while the original stars launch the Broadway production.