Hamilton's Popularity Decline Hidden By Lack of Secondary Market Ticket Sales
Hamilton's Popularity Decline Hidden By Lack Of Secondary Market Ticket Sales Data Transparency And Not Enough Available Ticket Inventory.
---
"Hamilton" Broadway Ticket Sales Prior Yo Lin-Manuel Miranda's Final Curtain Call
Hamilton has quickly become a Broadway success story since its public debut at the Richard Rodgers Theater on August 6, 2015, driving both regular theatergoers as well as those once-a-year visitors to see this unique Broadway show. One of the most talked about and revered aspects of the show has by far been Lin-Manuel Miranda's star role as Hamilton himself, and with 11 Tony Awards under its belt, Hamilton's secondary ticket market prices steadily skyrocketed until Miranda left the show.
Tickets were at an all-time Broadway high on the dates leading to Lin-Manuel Miranda's final performance, with ticket brokers taking advantage of his exit from Hamilton, the lowest priced ticket for his final performance was as high as $2,200 which is almost sixteen times the box office's get-in ticket price.
Prices Soar To $24,000
The highest-priced ticket was $24,000, which was rumored to remain unsold until a few minutes before the show for an undisclosed sum. Since then, Hamilton resale prices have just not been the same, giving hope to many Broadway theater enthusiasts that they might just be able to afford a ticket to the show in the near future.
Lin-Manuel Miranda's Departure At First-Take Seems Not To Affect Sales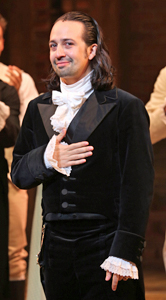 Due to the enormous demand for tickets, Hamilton face-value tickets are sold out until the end of January 2017. So how are people still getting their hands on tickets only days in advance? As one of the largest secondary ticket market sales websites, StubHub has been Hamilton enthusiasts' preferred resale ticket vendor, where tickets have been sold for almost sixteen times their original ticket price.
Unfortunately for StubHub and other ticket brokers like Ticketmaster resale division, who get a good share of profits from fees to both sellers and buyers, resale ticket prices have been dropping since the dreaded departure of Lin-Manuel Miranda on July 9th, 2016.
Unclear What Miranda's Departure Will Mean For Ticket Prices
Since Hamilton has been sold-out for the majority of 2016 and the first month of 2017, how are we supposed to know if there is any fluctuation in people's interest in the show? Taking the Broadway League's face-value ticket sales data, Hamilton's gross income per week has been above $2,000,000 with the highest average being $191.79 per ticket in the past ten weeks.
There have not been major fluctuations from week to week on face value ticket sales for Hamilton because these prices are fixed and really not available to the general public, so are meaningless to the man on the street.
Dynamic Ticket Pricing
The secondary ticket market, however, adopts the dynamic ticket pricing model, so it seems that is the best way to measure Hamilton's success and the week-to-week variation will be better served by looking at the secondary ticket market sales.
Hampering this analysis is the fact that both Ticketmaster and StubHub do not provide the same kind of data that the Broadway League provides for its face-value data, we assume in an effort to protect both their business and their market data research. The Broadway League has no such qualms and shares openly.
Secondary Ticket Market Sale Prices For "Hamilton"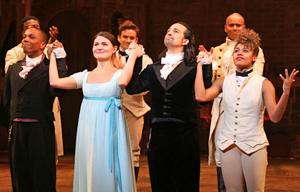 Taking a look back at the days leading to Lin-Manuel's timely exit, the lowest prices for tickets on sites like StubHub were above $1,500; they even managed to reach an astonishing $2,200 on Lin-Manuel's final performance - and that was for the worst seat in the house.
That following Monday, the same get-in seats were cut down by more than half of the asking price when compared to LMM's final performance on July 9, 2016. Nowadays, if you look for tickets weeks in advance, the prices are just north of $500.
"Hamilton" Remains At The Top
However, as the performance dates become closer, ticket brokers are failing to sell their tickets as fast as they once were, so they are dumping tickets for far less than the original asking price. Tickets for the next week can be found for anywhere between $300 and $389; no one has seen prices this low in months.
Looking at these numbers, Hamilton's popularity and demand have certainly decreased, but on every Broadway website Hamilton continues to be at the top of the most popular shows on Broadway. Are we supposed to hold Hamilton to a different standard? The number provided by the producers and the Broadway League are no longer enough to determine Hamilton's Broadway standing or momentum in one direction or another.
Negative Press May Damage Reputation
Hamilton's popularity has decreased, yet we have failed to show by how much because secondary ticket markets have no transparency in their ticket sales data. Because the show itself is low to react to market pressures, there will come a point when the comparable secondary ticket market tickets will actually be cheaper than their face value counterparts, which will be caused by the shows' inability to change with market forces.
The negative press from just this situation happening could irreparably damage the Hamilton brand, but it's an iceberg that the show's management cares little about.
A New Era In Ticket Pricing
Although Hamilton tickets have been seen for prices as high as $10,000, all of the big profits go straight into ticket brokers' pockets. Producers, actors, and show staff do not see a penny of these ridiculously overpriced resale tickets, and the creatives have taken notice. Recently Hamilton increased their prices for face value tickets. Other changes at the show include the classification of 200 seats as premium seats.
The face-value price has gone up from $549 to $849; standard tickets also went up from their original price of $139-$177 to $179-$199. Hamilton Producer Jeffrey Seller explains, "How did I get to the $849 face value price point for a Hamilton ticket? By continually monitoring the secondary market and finding out where the average is." He also hopes that this somewhat blunt mechanism will help stop ticket brokers from doing what they have been doing to Hamilton for months and Broadway for years.
Lottery System Set To Change
The Hamilton lottery system will also change starting January 2017; instead of the usual 21 lottery seats, there will be 46 offered in the first two rows of the Richard Rodgers Theatre.
Time will tell if any of these arbitrary price and process changes will work, as Broadway shows are often very slow to adopt new pricing models, especially ones that price their product outside of a real-time supply and demand model; this should be much like airline tickets, which look to maximize the profit on each seat - but still remains eons away from this goal.
How Much Did The Ticket Price Drop After Lin-Manual Miranda's Exit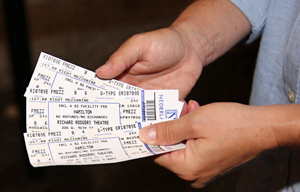 According to official sources at Stubhub and Ticketmaster, demand and quantity of secondary market ticket sales for Hamilton were not affected by LMM's exit, but the public's appetite clearly changed with the average price point on the secondary market shifting from $625 to $425 per seat.
Total secondary market ticket sales, number of seats sold and unsold seats are all confidential and were not disclosed at the time of writing, but it is clear on 46th street, that the lottery lines of seven days and the secondary market ticket hysteria are all, thankfully, behind us.
"Hamilton" In Decline
Some Hamilton secondary tickets are even selling for the somewhat paltry price of $280 on the day of the show, when all the ticket brokers are dumping inventory. The Hamilton party may be over for ticket brokers and now they are inclined to see what is next on Broadway, all the while quietly dumping their own ticket inventory. Hamilton on Broadway is now clearly in decline (but it is still the #1 show on Broadway by far), but its jump-the-shark moment is hidden by the lack of transparency of secondary market ticket sales data. What is now clear, the day LMM left the show, everything changed.
It is extremely rare for a show to ever recover from a major turnaround moment like that, not since Abie's Irish Rose in 1922 has a show stemmed the decline on a downward shift. Hamilton may still have a few tricks up its sleeve, but it now seems that Kanye West is no longer one of them.
"Hamilton" and the Rockefeller Foundation Give Back
Hamilton has had great success, but many people who fall on the lower side of the income spectrum might never be able to experience the show on Broadway. Lin-Manuel Miranda, alongside Rockefeller Foundation President Judith Rodin, reached a partnership that will help 100,000 inner-city students all over the United States see Hamilton live.
The way this partnership will work is that Hamilton producers will make the tickets available for $70, and the Rockefeller Foundation will cover $60 per ticket, so that the lucky 100,000 students will only have to pay the same amount as lottery ticket winners do.