"Hamilton" Secondary Market Broadway Ticket Prices Crash
Hamilton Tickets On The Secondary Ticket Market Dipped Below $300, The First Time In Its Run, Indicating That Demand Is Slowing Down For This Mega Musical.
---
Hamilton Tickets in Trouble; Losing Its Edge As Show Competition Grows And The Brand Is Diluted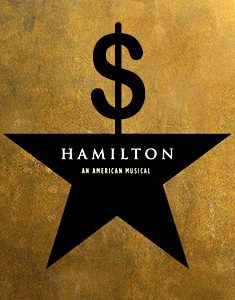 For the first time ever, since the mega-musical began performances on July 13, 2015, Hamilton tickets on the secondary ticket market dipped below $300 across the board. As of today, there are tickets available for Hamilton in NYC for as low as $175 for matinee performances, and $228 for evening performances.
In comparison, in May 2016, the average price of a ticket for Hamilton was $1,200, making it the most expensive Broadway show in history. Hamilton has completely changed the economics for Broadway, demonstrating that in extreme cases, tickets can surpass the $1,000 mark, even on average, in the secondary ticket market.
"Hamilton" Reached Impressive Heights
The show was spurred to such heights by a number of factors, among them the great success of the musical's official cast album, which debuted at number 12 on the Billboard charts, the highest debut of any musical since 1963.
Even when Hamilton was Off-Broadway at the Public Theater, the secondary market Hamilton tickets averaged around $200, which is incredibly high for Off-Broadway. However, now over two years into the show's run, these secondary ticket prices are starting to calm down. Even though this year's Tony Award winning Best Musical, Dear Evan Hansen, is by no means as historical a hit as Hamilton, it has still diffused some of the show's momentum.
"Frozen" Begins Performances
There are several upcoming shows that will also pose a serious threat to Hamilton's monopoly at the top of the Broadway charts. In February 2018, the musical adaptation of the Disney animated film Frozen will begin performances. With an already beloved score including such songs as "Let It Go" and "Do You Want to Build a Snow Man?"Frozen is a surefire hit. Then, in March 2018, Harry Potter and the Cursed Child Parts One and Two will arrive from London to Broadway.
Even though this is not a musical, but rather a duo of straight plays, the brand attraction of Harry Potter will definitely lure in hoards of theatregoers, further taking away from Hamilton's power. Both of these shows represent bigger fish to fry for both ticket brokers and theatregoers. The ticket brokers go where the money is and the smart money has already moved away from Hamilton. Expect to see even lower Hamilton ticket prices in this upcoming Broadway show season.

"Hamilton" Productions In London, Chicago, And San Francisco Keep Tourists Away From NYC
In addition to the other popular new shows on Broadway attracting fans away from Hamilton, there are other productions of Hamilton now popping up all over the world. For instance, Hamilton is playing in Chicago at the CIBC Theater, formerly named the PrivateBank Theater, in San Francisco at the Orpheum Theatre, and also across the pond in London at the Victoria Palace Theatre.
In this situation, theatre fans who live in these cities will not need to travel to New York City in order to see Hamilton. Instead, they can catch this world famous show in all its glory, locally. As the Broadway production no longer has the original cast, with Lin-Manuel Miranda having moved on long ago, the regional and international productions are just as enticing as the home grown New York City production.
High Ticket Prices For "Hamilton"
In London, Hamilton will begin performances on December 6, 2017 at the Victoria Palace Theatre. While this is two weeks later than originally planned, the delay due to construction work taking longer than expected, as the Brits insist on having their tea breaks, this is still just around the corner; British theatregoers will soon not have to cross the Atlantic to see Hamilton. According to The Guardian, the early performances of London Hamilton had tickets available on the secondary market for as much as £2,800.
As for San Francisco, the opening night performance on March 10, 2017 had tickets listed for as high as $15,000, for the third floor balcony nonetheless, and the following days performances have Hamilton tickets listed for as high as $3,333. Especially as the San Francisco production is a limited run, which was scheduled to run only until August 5, 2017 at the Orpheum Theatre, Hamilton tickets were particularly in high demand - and Silicon Valley hotshots have money to burn.
Downturn In Secondary Market
As Hamilton continues to work its way around the globe, the Broadway production is losing some of its piping hot steam. As demand is drying up, the hyperbolic hype spearheaded by Hamilton's press representative, Sam Rudy, appears to be on its way out. These lower secondary ticket market prices are an indication of a huge downturn of ticket brokers' investments, and they show that consumers are less eager to pay way over face value and get ripped off by astronomical ticket broker prizes.
This downturn in secondary market Hamilton tickets price will clearly also have an effect on face value Hamilton tickets price. The top-priced face value premium ticket is still $849, which was set up on the best seats in the house to return a profit back to the producers of the show and away from ticket brokers, but this will not last much longer with other ticket prices falling.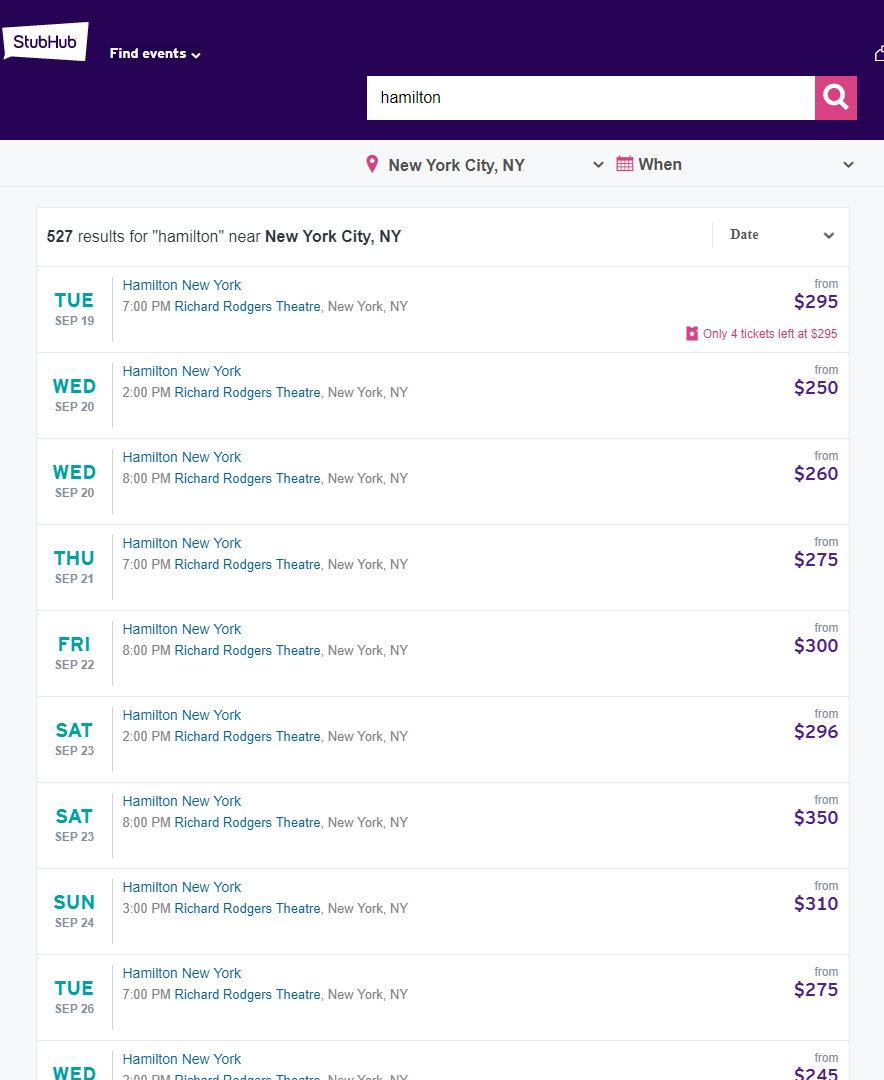 The Hamilton Touring Production To Visit 44 Cities
There is nothing quite like a US tour to dilute the Broadway brand. Disney is an expert in this, which is why they usually establish the brand on Broadway, close the show when it starts to wane and take the show on tour.
The only exception to this Disney rule has been Lion King, that seems to be omnipresent both stateside and internationally, and yet still pack in audiences. Hamilton is trying to do the same thing as Lion King and have it both ways, with tour dates across America scheduled from now until the end of 2019.