Hal Prince Retrospective "Prince of Broadway" Begins
Prince Of Broadway Is A New Musical That Commemorates The Work Of Harold Prince, The Unparalleled Director And Producer From The Golden Age Of Musicals.
---
A Musical Journey Over 60 Years In The Making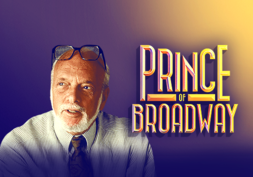 Harold "Hal" Prince is a legend of Broadway theatre. Beginning with his first credit as assistant stage manager in the 1950 production of Tickets, Please!, Prince has since produced and/or directed over 50 productions on Broadway, winning the record-setting figure of 21 Tony Awards, more than any other individual.
Hal Prince may not be a household name, but the indelible impact he has left on generations of theatregoers is undeniable.
"Prince of Broadway" Devoted To Hal Prince's Legacy
A remarkable number of the musicals that are considered inextricable from the canon of contemporary musical theatre today were originally directed and/or produced by Hal Prince, and it is fitting that an entire musical be devoted to his legacy, while he is still alive to enjoy it.
At 89 years old, Prince is still in the game, co-directing along with Susan Stroman this new musical Prince of Broadway, which is a retrospective of many of the shows he has directed and/or produced. Spanning decades of theatre history, these shows include his directorial endeavors The Phantom of the Opera, Company, Sweeney Todd, Kiss of the Spider Woman, Cabaret, Follies, Evita, A Little Night Music, and many more.
An Incredible Cast And Creative Team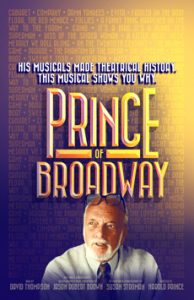 Hal Prince's co-director of Prince of Broadway, Susan Stroman, is an accomplished director in her own right, whose credits include Bullets Over Broadway, Big Fish, The Scottsboro Boys, Young Frankenstein, The Frogs, The Producers, Thou Shalt Not, and The Music Man.
The book for Prince of Broadway is written by David Thompson, whose credits include The Scottsboro Boys, Thou Shalt Not, and Steel Pier. In addition, the musical has original songs and new arrangements by Jason Robert Brown, who is the talented composer of such shows as Honeymoon in Vegas, The Bridges of Madison County, 13, Urban Cowboy, Parade, and The Last Five Years.
Variety Of Music And Shows
As for the cast of Prince of Broadway, the ensemble performs a versatile selection of musical numbers from an incredible variety of shows.
These talented performers include Chuck Cooper, who won the 1997 Tony Award for Best Performance by a Featured Actor in a Musical for The Life, Michael Xavier, a two-time Olivier Award nominee who recently appeared on Broadway as Joe Gillis in Sunset Boulevard opposite Glenn Close, Brandon Uranowitz, a two-time Tony Award nominee for his performances in Falsettos and An American in Paris, Emily Skinner, whose credits include Billy Elliot: the Musical and Dinner at Eight, Byronha Marie Parham, who has appeared in After Midnight and The Gershwins' Porgy and Bess, Kaley Ann Voorhees, who has played Christine in The Phantom of the Opera, Karen Ziemba, whose credits include Bullets over Broadway and Curtains, and Tony Yazbeck, who was nominated for the 2015 Tony Award for Best Actor in a Musical for On the Town, among other credits including Finding Neverland and Irving Berlin's White Christmas.
A Theatrical Golden Age Shepherded By Hal Prince
When Jason Robert Brown first visited the Times Square office of legendary director Hal Prince to discuss collaborating on a musical revue about his life's work, he saw the wall of posters of shows and was infuriated. Here was documentation of a theatrical golden age, which Hal Prince willed into being, and of which Jason Robert Brown felt he arrived at the tail end of.
While Parade, which Prince tapped Brown to compose at a young age, did make that wall, Brown's more recent credits have been more forgettable. Nevertheless, Prince is certainly due a lot of credit for shepherding into existence such a miraculous repertoire of shows. While the duo had trouble figuring out which songs to include, given the essentially infinite scope to choose from, the result is an unparalleled selection of songs from a golden age of musical theatre.
A Look To The Future
Still, the intent of this show is not nostalgia; Hal Prince does not want his audience to leave thinking "those were the good old days". However, the show could have opted to include the famous song "Those Were the Good Old Days," sung by the Devil in Damn Yankees, which Prince produced. Nevertheless, Prince has his eye on the future, and wants his audience to be inspired to continue participating in the endless future of the medium, while these songs continue to live on in their hearts.