"Great Comet" Set to Close September 3rd, 2017
The Great Comet Of 1812 Is Set To Close After A Casting Controversy Erupted Into A Twitter War And The Show Will Now Close On September 3rd, 2017.
---
Great Comet Crashes In Broadway Production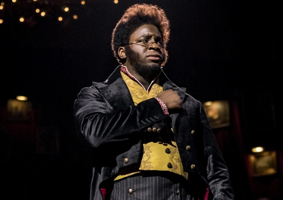 Broadway's Natasha, Pierre and the Great Comet of 1812 is set to close after a casting controversy erupted into a twitter war.
Great Comet will now close on September 3rd, 2017 - a sudden end to a show that seemed to be doing so well and won two Tony Awards and was nominated for 12 Tony's. The Great Comet is based on a passage from War and Peace and has had a number of stars attached to it, stars of the celebrity kind that is.
Star Power Can't Carry "Great Comet"
Josh Groban ("You Raise Me Up") originally headlined the role of Pierre when Great Comet moved from its off-Broadway location at the Ars Nova to the Imperial Theatre. Singer Ingrid Michaelson ("Be OK", "The Way I Am") played Sonya for a limited time. Despite consistently packed theaters and star power, Great Comet is ending sooner than expected.
Casting Controversy Sparks Firestorm
After Josh Groban's departure in the lead role of Pierre, producers cast Okieriete "Oak" Onaodowan as his replacement. Oak was set to play the role until September 3rd, but producers then cast Mandy Patinkin in the role with a start date of August 15th, effectively cutting Onaodowan's role short.
As Onaodowan is a black actor and Patinkin is white, outraged Great Comet fans felt that the issue was tied to racism. The move was originally made to boost ticket sales, as Great Comet's advance ticket sales were poor without Groban in the lead, and Patinkin.
Difficulty Finding Cast Replacements
Onaodowan's presence in the role did not help sales, even though he had previously appeared in the smash-hit Hamilton in the original cast as Hercules Mulligan and James Madison. Great Comet creator David Malloy has been unable to find a replacement for Groban, Onaodowan or Patinkin, and has cited his inability to find a new Pierre as the reason for Great Comet's early departure.
Theater Fans Debate Casting Decisions
Some musical theater fans condemned the accusations of racism, citing that Great Comet has been lauded for its diversity and color-blind casting. Those who took this position also said that because of the backlash, many black actors are now out of work. Others blamed "PC culture" for the controversy, saying that the casting had nothing to do with race.
The backlash eventually caused Patinkin to exit the role before he even started it. Because Dave Malloy could not find a new Pierre, the show's closing was announced. Scott Stangland will take on the role of Pierre for a limited time between Okieriete Onaodowan's departure and the end of the show.
Possible Pierre Replacements
A suitable replacement for Oak's role of Pierre would be Lil Yachty. Mr. Yachty may not have any stage experience, but his lyrical talent as a "mumble rapper" is immeasurable. His red braids may not fit into the setting of 19th century Russia, but the writers of Great Comet can surely come up with a way to integrate them into the role.
As the time of writing, Mr. Yachty's agent cannot confirm nor deny his interest in the role. Other musical artists, such as the rap trio Migos, have been rumored to be interested in the role. Nobody as of yet has come forward with their desire to play the role of Pierre.
Discount Broadway Tickets
---
---