Glenn Close Earns Raves in "Sunset Boulevard"
Renowned Actress Glenn Close Returns To The Stage To Star In Sunset Boulevard Currently Being Revived On Broadway At The Palace Theatre, Directed By Lonnie Price
---
Revival of 1994 Musical Based on 1950 Film on Broadway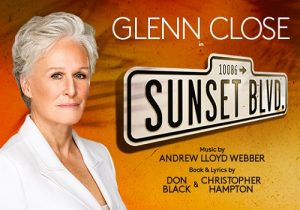 On February 9, 2017, Sunset Boulevard opened at the Palace Theatre. It had been running in previews for just a week, since February 2, 2017. This musical has a book and lyrics by Don Black and Christopher Hampton, along with a score by Andrew Lloyd Webber. In a rare turn of events, this revival marks the fourth simultaneously running production with music by Andrew Lloyd Webber, joining the long-running The Phantom of the Opera, the recent revival of Cats, and the new hit show School of Rock – the Musical.
This production of Sunset Boulevard is a transfer from a recent London production at the English National Opera, which not only starred Glenn Close as Norma Desmond, but also served as the original home for many of the other actors portraying their roles, including Michael Xavier as Joe Gillis, Siobhan Dillon as Betty Schaeffer, and Fred Johanson as Max von Mayerling, all three of whom are making their Broadway debuts with this production.
Glenn Close Returns to the Broadway Stage
While that English National Opera production marked Glenn Close's West End debut, it was by no means her Broadway debut. In fact, she played the same role of Norma Desmond to great acclaim in the original 1994 Broadway production of Sunset Boulevard. Her other Broadway credits include A Delicate Balance, The Play What I Wrote, Death and the Maiden, and Benefactors.
Director Lonny Price and a 40-Piece Orchestra
Lonny Price is no newbie on Broadway. His most recent directorial effort was the 2014 production of Lady Day at Emerson's Bar & Grill starring Audra McDonald, and his other directorial credits include 110 in the Shade, Master Harold and the Boys, and Urban Cowboy. In addition, he wrote the book, directed, and acted in the musical A Class Act in 2001, and also wrote and directed the play Sally Marr… and her escorts, which was produced in 1994. Prior to that, he acted in several plays including Burn This, Broadway, Rags, and the 1982 production of Master Harold and the Boys.
Now, in his masterful direction of Sunset Boulevard, the show is accompanied by a 40-piece orchestra, which is larger than most shows in this contemporary age. The gorgeous score includes such songs as "As If We Never Said Goodbye," "Perfect Year," and "With One Look." When the show premiered on Broadway, it was nominated for 11 Tony Awards, winning 7 including Best Musical, Best Original Score, Best Book of a Musical, Best Performance by a Leading Actress in a Musical for Glenn Close, Best Performance by a Featured Actor in a Musical for George Hearn, Best Scenic Design, and Best Lighting Design.
Glenn Close to Reprise Her Role as Norma Desmond on Broadway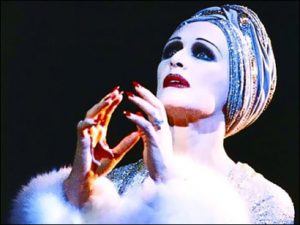 It is unusual for an actor to reprise a role in the original production and first revival of a show, especially when that actress has such renown as Glenn Close. When she starred in the premiere of Sunset Boulevard in 1994, she had yet to become the household name, recognizable for such films as 101 Dalmatians (1996), Air Force One (1997), Things You Can Tell Just By Looking at Her (2000), The Stepford Wives (2004), Guardians of the Galaxy (2014), or the television show Damages (2007-12).
When the opportunity came to star in this show in London, she obliged, presumably due to her fondness for the material, and feeling that she could reinvent the part anew after such a long time. Therefore, when the decision was made to bring the show to Broadway, her attraction to the show was unrelenting, and whether she intended to or not, she ended up starring in the same show on Broadway twice. The show is scheduled to run until June 25, 2017.