Frozen Opens to Generally Positive Reviews
Frozen on Broadway Opened to Generally Positive Reviews; Movie's Massive Fan Base Guarantees There Will Be Full Audiences, At Least In Short Term
---
Musical Adaptation of Mega-Hit Animated Film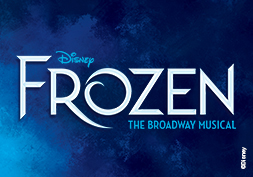 On March 22, 2018,
Frozen
officially opened at Broadway's St. James Theatre, where it had been running in previews since February 22. The show came to Broadway following an out-of-town tryout in Denver last September, where it received somewhat mixed reviews, and it has been significantly retooled since then. Prior to Denver, the show underwent a series of creative changeovers as Disney worked to find their ideal team, and ended up with Michael Grandage (
Evita
,
Red
,
Hamlet
) as the director, along with Rob Ashford (
Evita
,
How to Succeed in Business Without Really Trying
) as choreographer.
The book is written by Jennifer Lee, who wrote the screeplay and co-directed the film, and the score is written by Kristen Anderson-Lopez and Bobby Lopez. The role of Elsa is played by Caissie Levy (
Les Misérables
,
Hair
), and the role of Anna is played by Patti Murin (
Lysistrata Jones
,
Xanadu
). Audrey Bennett and Mattea Conforti switch off playing Young Anna, and Brooklyn Nelson and Ayla Schwartz switch off playing Young Elsa. Furthermore, Jelani Alladin plays Kristoff, Robert Creighton plays Weselton, Kevin Del Aguila plays Oaken, Greg Hildreth plays Olaf, Timothy Hughes plays Pabbie, and Andrew Pirozzi plays Sven.
Most Critics Gave Thumbs Up, With Admittedly Pointless Reservations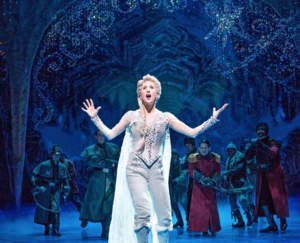 The New York Times, while complimenting the opening 20 minutes, felt that the show devolves into confusion once the castle gates open for Elsa's coronation. Jesse Green also felt the ice effects were ineffective, the fact that the sisters rarely get to sing together a structural problem, and the overall tone to be disjointed, with the somber and the silly never finding their step in sync. Nevertheless, he admits that the show will almost certainly be a financial hit, as animated films adapted into musicals have never been so lucrative.
Entertainment Weekly said that they didn't reinvent the snowman, but "they've certainly built a better Frozen." Variety found Levy to be "stunning" and Murin to be "darling," but also called it a "snowy, showy stage adaptation," and found it a waste that Elsa never gets to fight her own anti-hero. NY1 compared it more to Disney stage attempt with Beauty and the Beast than their endlessly successful The Lion King, but still was moved by the "talented sisters" that succeeded in melting her heart. Deadline also lamented that Elsa had to sing her show-stopper number alone on the stage, but did ultimately feel satisfied by the ice and snow effects.
Despite the Critics, Frozen is a Hit
Over the course of its four weeks so far, Frozen has brought in 97.80% of its gross potential, and the audiences have been filled up on average to 99.85%. Time will tell whether these numbers sustain or even grow, or whether they peter out as word of mouth spreads that Frozen is no The Lion King. Nevertheless, the brand power of this mega-hit animated film will certainly sustain the Broadway show for a while longer, but exactly how long remains to be seen.