From "La La Land" to "Fences," Theatre at the Oscars
Broadway Talent Shines Both In Front And Behind The Camera In A Perfect Marriage Of Convenience Between The Charm Of Broadway And The Glamour Of Hollywood
---
Broadway Show Earns Several Nominations at the Academy Awards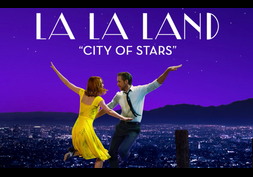 This evening, Sunday, February 26, 2017, the 89th annual Academy Awards ceremony will take place at the Dolby Theatre in Hollywood, broadcast live on ABC at 5:30pm Pacific time, 8:30pm Eastern time. While the focus of the evening is certainly on the motion picture industry, rather than theatre, it is undeniable that stars of the stage will be among the nominees tonight. A healthy amount of buzz is circulating for La La Land, a throwback musical for the screen starring Emma Stone and Ryan Gosling, written and directed by Damien Chazelle (Whiplash).
La La Land has scored an incredible 14 Academy Award nominations, include those for Best Picture, Actor in a Leading Role for Ryan Gosling, Actress in a Leading Role for Emma Stone, Cinematography, Costume Design, Directing, Film Editing, Music (Original Score), Music (Original Song) for "Audition (The Fools Who Dream)," Music (Original Song) for "City of Stars," Production Design, Sound Editing, Sound Mixing, and Original Screenplay. Beyond the fact that this is a musical hitting the big screen as an original piece of work, which is highly unusual in this day and age, La La Land is most notable for the theatre community in regards to the show's lyricists: Benj Pasek and Justin Paul.
"La La Land" - Songwriters Benj Pasek and Justin Paul
While the songs were composed by the director Damien Chazelle's longtime collaborator and former Harvard classmate, Justin Hurwitz, the lyrics were written by Broadway staples Pasek and Paul. This duo has been behind such musicals as A Christmas Story: the Musical and Dear Evan Hansen, the latter of which will be a major contender for the Tony Awards this upcoming season. As far as in front of the camera, the musical film stars two actors who are best known for their non-singing roles on screen. Still, Emma Stone did make her Broadway debut in the musical Cabaret from 2014 to 2015 as a replacement in the lead role of Sally Bowles.
Pulitzer Prize for Drama Winner "Fences" Adapted to the Screen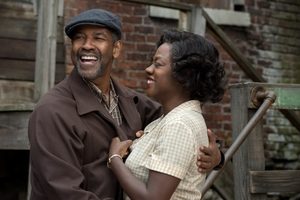 August Wilson is one of the greatest American playwrights of recent times, with his unparalleled achievement of writing ten plays, each about one decade in that century of the 20th century, about the African-American experience. Presently, Wilson's Jitney is enjoying its Broadway debut, marking the final play of that cycle to be produced on Broadway. One of the most acclaimed of Wilson's works is Fences, which premiered on Broadway in 1987, and then enjoyed a highly regarded revival in 2010 starring Denzel Washington as Troy Maxson, and Viola Davis as his wife, Rose.
After many years of development, a screen adaptation has finally been released, with Washington and Davis both reprising their same leading roles, and with Denzel Washington as the director. The film has received four Oscar nominations: those for Best Picture, Best Actor in a Leading Role for Denzel Washington, Best Actress in a Leading Role for Viola Davis, and Best Adapted Screenplay for August Wilson. Although Wilson sadly died in 2005, he wrote the screenplay which languished for years as he insisted on finding an African-American director. Finally, Denzel Washington took up to mantle, directing and starring in this Oscar-nominated film.
Kenneth Lonergan's "Manchester by the Sea"
Another theatre great is up for awards consideration for a film this year. Kenneth Lonergan, a prolific playwright whose work has only been seen on Broadway once, with the 2014-15 revival of This Is Our Youth, is the writer and director of Best Picture nominee Manchester by the Sea. That film is up for a total of six awards, with the others including Best Directing for Lonergan, Best Original Screenplay for Lonergan, Best Actor in a Leading Role for Casey Affleck, Best Actor in a Supporting Role for Lucas Hedges, and Best Actress in a Supporting Role for Michelle Williams.
While Casey Affleck has not yet appeared on Broadway, Michelle Williams has been on Broadway twice: as the original Sally Bowles in the 2014 revival of Cabaret (prior to Emma Stone taking on the part), and as Una in the 2016 revival of Blackbird. As for Lucas Hedges, he is a young newcomer who has recently appeared Off-Broadway in the MCC production of Yen.
Other Crossover Actors: Michael Shannon, Nicole Kidman, Mahershala Ali, Meryl Streep
There are quite a few actors up for Oscars who have recently been on the stage. Michael Shannon has appeared on Broadway twice: the 2012-13 production of Grace, and the 2016 production of Long Day's Journey Into Night. Tonight he is up for the Oscar for Best Supporting Actor for his role in Nocturnal Animals. In addition, star of the screen Nicole Kidman is up for an Academy Award tonight for Best Supporting Actress for Lion; she made her Broadway debut in the 1998-99 production of The Blue Room, and recently appeared on stage in London in the play Photograph 51.
As for the incredibly acclaimed film Moonlight, the actor Mahershala Ali is up for the award for Best Supporting Actor; he recently appeared onstage in the Off-Broadway production of Smart People at Second Stage. And finally, Meryl Streep, who scored her record-breaking 20th Oscar nomination this year with Florence Foster Jenkins, appeared on Broadway numerous times from 1975 to 1977, before Hollywood stole her away. Nevertheless, her daughters Grace and Mamie Gummer have both appeared on Broadway in recent years, in Arcadia (2011) and Les Liaisons Dangereuses (2008), respectively.