"Fool For Love" Opens at the Samuel J. Friedman Theatre
On October 8, 2015, Fool For Love Remarkably Premiered On Broadway At The Samuel J. Friedman Theatre Starring The Talented Nina Arianda And Sam Rockwell As Star Crossed But Ill Fated Lovers
---
Sam Rockwell and Nina Arianda Star in Sam Shepard Play on Broadway

This past week, Fool For Love had its official opening night on Broadway at the Manhattan Theatre Club's Samuel J. Friedman Theatre. It had been running in previews since September 15, 2015, and is presently scheduled to run for a limited engagement until December 13, 2015. The play was written by Sam Shepard and first premiered in 1983 at the Magic Theatre in San Francisco, followed by New York productions at the Circle Repertory Theatre in May 1983 and then the Douglas Fairbanks Theatre where it ran until September 1985. In 1984, the play was a finalist for the Pulitzer Prize for Drama.
This production marks the Broadway debut of this beloved Sam Shepard play. It has had more formal prestige in London, where it played the National Theatre in 1984, and then had a West End revival at the Apollo Theatre in 2006. The origins of this Broadway revival stem from a Massachusetts production at the Williamstown Theatre Festival in summer 2014, when Sam Rockwell and Nina Arianda were cast in a last minute scramble after the originally cast stars had to drop out due to other commitments. However, the reception and chemistry between these two was so overwhelmingly positive that Broadway entered the view on the horizon.
The Critics Agree: This Is A Stupendous Broadway Production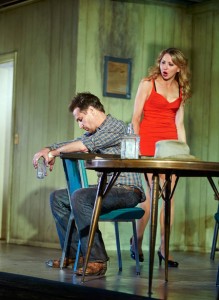 Following the opening night, the reviews came out in basically unanimous agreement in favor of this show. Ben Brantley of The New York Times found the show to be breathtaking, enjoying the doomed, cyclical dance performed by Rockwell and Arianda in their love battlefield that is this play. David Cote from Time Out New York was equally impressed, finding Arianda as remarkable in this more humble role as she was in her irresistibly sexy performance in Venus in Fur in 2010.
Joe Dziemianowicz from New York Daily News found the play to be delightfully combustible, with Sam Rockwell bringing his reputedly explosive emotion and weirdness to the role alongside Nina Arianda in a percussive and ritualistic story as visceral as it is compelling. Marilyn Stasio was also a big fan of Daniel Aukin's production, enjoying its physicality and dual sense of despair and desire while also admitting it may not be the definitive production of this play. Finally, Robert Kahn from Time Out New York found the show to be just as fiery as it was at the Williamstown debut of this production, finding it excellently atmospheric.
Box Office Has Room For Growth
As the show has only opened this past week, word of mouth has not quite caught up yet with the excellent critical reception. In the last reported week of box office figures, the week ending October 11, 2015, the show brought in $263,338, which represents just 45.29% of its gross potential. The average paid admission was $53.81, and the average audience capacity was 95.7%.
This shows that while many people are interested in attending the show, there is not so high demand as to warrant paying top dollar for a sold out run at this point. The box office has crept up just slightly from its first full week of performances, when it brought in $239,768, which represented 35.82% of the gross potential. Therefore, this may be a show where the box office slowly increases as word of mouth spreads, or it may be one of those unfortunate cases where the excellent reviews still do not equate to excellent box office.