"Farinelli and the King" Recoups Investment
Farinelli and the King recouped its investment on Broadway, marking a great success for this play by Claire van Kampen starring Mark Rylance.
---
Mark Rylance Led Play Written by Claire van Kampen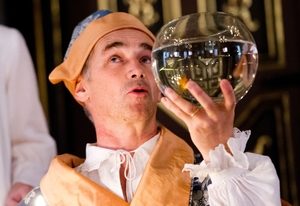 At the end of last month,
Farinelli and the King
concluded performances at the Belasco Theatre, where it played 125 performances including previews, since its first Broadway performance on December 5, 2017. Entering into production, the play was not a surefire hit. Even though it transferred to New York following a successful run in London – first at Shakespeare's Globe, and then at the Duke of York's Theatre in the West End – works on the topic of historical European monarchies do not always make the hop across the pond with financial success. In this case,
Farinelli and the King
is a play written by and with music arranged by Claire van Kampen, who is married to beloved star of stage, and more recently screen, Mark Rylance (
Jerusalem
,
La Bête
,
Boeing-Boeing
). In this case, Rylance starred in
Farinelli and the King
as King Philippe V, with a cast that also included Sam Crane as the opera star Farinelli, Iestyn Davies as the singing voice of Farinelli, Huss Garbiya as Dr. José Cervi, Melody Grove as Isabella Farnese, James Hall as a singer, Lucas Hall as Jethro and Miguel, Colin Hurley as John Rich, and Edward Peel as Don Sebastian de la Cuadra. The play was directed by John Dove, and the musical director was Robert Howarth.
"Farinelli and the King" is a Financial Win
Despite the odds against this show, the producers announced that it recouped its full capitalization by the end of the run. For this show to work monetarily, everything had to go right, and it did. The lead producer Sonia Friedman has been giving American audiences the gift of Mark Rylance for years now, and his success at the Tony Awards allowed him to break into Hollywood, with roles in such films as
Bridge of Spies
and
The BFG
. This recent screen success, coupled with his continually growing fanbase of devoted Broadway theatregoers, allowed Mark Rylance to grow organically into a real box office name, which paid off in this most recent production of
Farinelli and the King
. Furthermore, the show received excellent reviews. Ben Brantley from the New York Times said that you'll "never want to…take your eyes off" Mark Rylance as King Philippe V, whom he declares decisively as "one of the greatest actors on the planet." He also called the play "Claire van Kampen's shimmering fairytale for grown-ups." Jeremy Gerard from Deadline also gave the show a rave, as did Chris Jones from the Chicago Tribune, among many other critics. With such positive momentum, the show managed to recoup its entire capitalization.
Recoupment Despite Low-Cost Accessible Ticket Policy
Over the course of the show's limited engagement on Broadway, it brought in a total box office gross of $12,193,852. While the show's budget was not disclosed, it was likely in the range of $2 to $3 million. Still, there are substantial operating costs each week, including theatre rental, actor and crew salaries, and marketing expenses. As such, the show only managed to recoup near the end of the run. A previously announced recoupment of a play this season was John Leguizamo's one-man show
Latin History for Morons
, which most likely had much lower running costs, due to its smaller cast of one, as well as its lower cost design and musical elements. It is always a great achievement when a straight play recoups in an industry that has become clogged with cotton candy magnetic musicals. In the case of
Farinelli and the King
, it is even more impressive that the show managed to achieve financial success, as the producers stood behind a low-cost ticket initiative. Of the approximately 112,000 people who saw this show on Broadway, over 25,000 of them did so with $32 tickets. In a statement, the producers declared that the intention behind this initiative was "providing an affordable price point for more audiences, and ensuring future generations of theatregoers."
Discount Broadway Tickets
---
---