"Escape to Margaritaville" Sets Closing Date
Escape to Margaritaville Has Announced Will Play Its Final Broadway Performance on July 1, 2018 After Earning No Tony Nominations And Mediocre Reviews.
---
Negative Reviews for this Jimmy Buffett Musical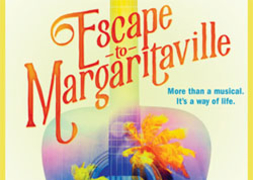 On February 16, 2018, Escape to Margaritaville began performances at the Marquis Theatre, where it had its opening night on March 15, 2018. As of this past week, the producers have announced the show's closing date: July 1, 2018. The investors were banking on Jimmy Buffett's successful track record of energizing his fanbase for a variety of endeavors: music concerts, restaurants, business ventures, and Broadway seemed like a logical next frontier. Prior to arriving in New York, the show played an out-of-town tryout in four cities: La Jolla, Chicago, New Orleans, and Houston.

The Broadway reviews were less than ecstatic. The New York Times remarked that the show makes "getting sloshed on Broadway" easier than ever, but that "you still have to see the show." The Hollywood Reporter called it "the theatrical equivalent of sipping on a frozen drink while lying on a beach chair in the blazing sun." The Daily News remarked that it "may fit the bill if you're in the mood for a breezy but dopey diversion" and Entertainment Weekly stated that it "was designed for Baby Boomers…who want to sing along to that hit they listened to while getting stoned on the beach in the '70s."

Shut Out from Tony Awards, and Slippery Box Office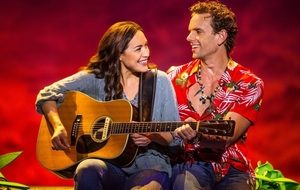 Not only has the show been a tough sell with audiences and critics, the Tony Awards committee neglected to recognize the show with even a single nomination. In the week ending May 27, 2018, Escape to Margaritaville brought in a weekly gross of $578,330, which is its lowest gross to date in a full performance week. That revenue represents just 32.99% of the show's gross potential. With a top ticket price of $247.00, the average paid admission was $78.72, and the audience capacity was filled up to 56.5% of its potential.

It doesn't help that the Marquis Theatre is on the larger side, seating up to 1,612 people per performance. Nevertheless, the show's capitalization was in the realm of $15 million, which is in the mid to high range for a musical, so without any real momentum at the box office, the idea of entering profits seems to be somewhat of a pipe dream.

Buffett's Fan Base Did Not Show Up, National Tour To Follow
Buffett's fanbase is well-established all over the country, and the urban nexus of New York City is not necessarily the place where this show was ever going to shine brightest. Following the final Broadway performance on July 1, 2018, Escape to Margaritaville will launch a national tour, beginning at Rhode Island's Providence Performing Arts Center in October 2019.

Featuring a book by Greg Garcia and Mike O'Malley and directed by Tony winner Christopher Ashley, Escape to Margaritaville features the songbook of Jimmy Buffett, with songs including License to Chill, It's Five O'Clock Somewhere, It's My Job, Why Don't We Get Drunk, We Are the People Our Parents Warned Us About, Margaritaville and Cheeseburger in Paradise.