East Side Story: Frozen, Harry Potter Knife Fight Scheduled For 2018
NYC Needs To Prepare Itself For Two Movie Blockbusters Making Their Big Broadway Debut In Spring 2018, But Who Will Come Out The Ultimate Winner?
---
Two Blockbuster Hits Make Broadway Debut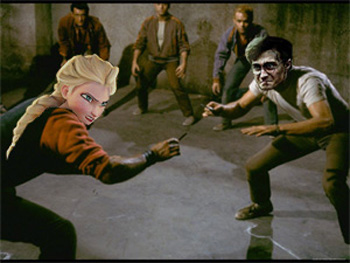 Who Will Win The Knife Fight: Elsa Arendelle Vs Albus Severus Potter New York City needs to prepare itself for two movie blockbusters making their big Broadway debut in Spring 2018. These two behemoth franchises are sure to bring a lot of attention to Broadway and will likely bring in huge crowds.
Many of which may have never attended a Broadway show or musical before. If the movies are any indication of who will want to see them on Broadway, it would be accurate to say that they both will be attracting two very different, but very large crowds.
The Harry Potter Audience Demographic
Over the course of almost 20 years, 7 books and 8 movies since 1997, the Harry Potter franchise has reached a tremendous group of people. Because of its spread across the years, the original young fans have grown up and gotten real lives, well most of them anyway.
This means that the age range for this historically tween subject matter is extraordinarily large, today now ranging from ages 15-35. With its arrival on Broadway, the show will be able to hit two separate generations that have grown up alongside Harry.
Millennials And The Centennials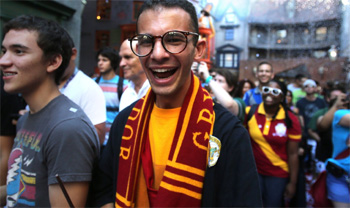 The two groups are the Millennials, who experienced the birth of Harry Potter and the Centennials, the new generation (AKA the Entitled), who saw the end of the Harry Potter era.
These are two major audiences that Broadway has been lacking and now may be flooding the doors of the Lyric Theatre come Spring 2018. The Centennial generation, which is a new group often seen as entitled, may demand that their middle-class (or even poorer parents, that aspire to be rich) buy them tickets to this show or the brow beaten parents will have to listen to them whine about it forever, which is a typical Centennial characteristic.
Hoping To Spark Teen Fantasies
This is a group who probably never even picked up a Harry Potter book and maybe only saw the last two movies but they still feel that they are entitled to everything special. As for the millennial group, Potter fans can be divided into two separate sub groups. The first group is full of late 20 and early 30 year olds that are still stuck in the fantasy world of witches and wizards and are most likely to live in their parents' basements.
Whereas, the second group of Millennial Potter fans have grown up and long left that wizardly world behind. Regardless of which of the two groups a millennial may fall in, seeing that Harry Potter has come out with something new may once again spark their teen fantasies that another world full of magic may exist and they can divest themselves from reality and be a part of it.
The Frozen Demographic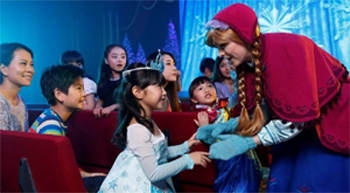 In only 3 short years Disney's mega movie hit, Frozen, has become a huge sensation among children between the ages of 5-10. Even their parents like it too. Moving away from Disney's typical princess movie, where the princess is saved by a prince, and focusing on the love between two sisters, we can see why Frozen has become so adored by so many.
Frozen the Broadway Musical will surely bring a much more younger audience to Broadway, even younger than The Lion King demographic. The aisles of the St. James Theatre will be full of little girls dressed in their favorite princess outfit and little boys holding they favorite plush toy accompanied by their cooing and doting parents.
Disney Is No Stranger To Broadway Success
You may find teens and 20-something year olds who still believe in the magic of Disney princesses, making their way to their seats to see the world of Arendelle. Tweens may reject the show, much like they have the movie, because they may believe that they are too old for toys and too young for boys, the Frozen brand falling into the toys category. Disney is no stranger to success on Broadway, having one of the longest running musicals ever seen in New York City, The Lion King.
It definitely knows how to take advantage and make the most of a brand, which they also intend to do with Frozen. Since the majority of patrons purchasing tickets to see Frozen the Broadway Musical will be parents, tickets will be among one of the higher priced ones in Broadway and discounts will be non-existent, much like for The Lion King. It can also be expected to see a lot of merchandise which will most likely be heavily advertised because the audience will be filled with little kids and parents that will not be able to say no to their "babies."
The Cross-Over Between Audiences
There is little possibility that one person will be attending both Harry Potter and Frozen Broadway shows given that their demographic is so different in age, taste, interest and wealth. One of the few possible cross overs between both shows could be that parents that have children of different ages may have to see both shows.
It will be very rare that a Frozen fan is also a huge Harry Potter fan, ready to shell out another $200 and six hours of time. Another possible group that may go see both is the small number of girls who are stuck in the tween-teen age where both stories appeal to them and the few brothers or boyfriends that are happy to see Harry Potter but are also dragged to see Frozen with their significant others. Regardless, there is very limited audience intersection between the two shows.
How Will the Winner Be Determined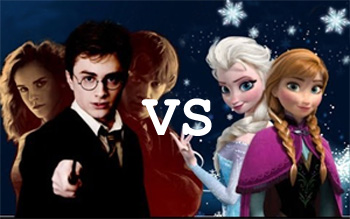 So how will the winner be determined? Definitely not by critical reviews, since there have been a lot of shows on Broadway that have received harsh reviews and still managed to be very successful. Take The Book of Mormon for instance, it recently started to receive bad reviews but it still managed to make a gross profit of $70,592,536 in 2016.
The winner could be decided by how many times fans will see the same show over and over again as Disney has a long history of worn out video tapes from multiple viewings of a favorite movie. Wicked is a good example of a very successful musical that fans see multiple times.
Tickets Likely To Sell Out Quickly
It may be some time before both shows reach that level since there is so much anticipation surrounding both of these new shows that they will most likely sell out quickly and for a long period of time. So the fans might not be able to afford to see either of them more than once even if they wanted to.
Seeing that both Harry Potter and the Cursed Child and Frozen the Broadway Musical are likely to always be completely sold out, much like Hamilton, using the gross ticket sales number is misleading and a very poor way of determining the winner. The most appropriate way to determine who the winner is between these shows will be by analyzing secondary ticket market sales, where free market forces apply and dynamic pricing can show the true popularity of a show.
"Harry Potter" Proven Strong With Huge Crowds In London
The only way people were able to see how Hamilton's popularity changed with time was by looking at ticket broker's prices as they rose and fell especially after Lin-Manuel Miranda's departure from the show when prices were slashed. What is interesting is that both of the theatres for the shows will be about the same size. The St. James Theatre has about 1700 seats and the Lyric Theatre will have about 1500 seats once 400 seats are "removed" in order to make way for Harry Potter.
In the end we will have to wait in order to determine who the ultimate winner of this knife fight will be, but I am calling it right now. Harry Potter is already proven as a strong show with huge crowds in London, but I predict that the winner is ultimately going to be Elsa in Frozen, unless the producers really mess up a good thing, something they have done before with great franchises.