"Doctor Zhivago" Concludes Broadway Run Early
Doctor Zhivago, Directed By Des Mcanuff, Closed On May 10, 2015 After Failing To Receive Any Tony Nominations And Struggling At The Box Office.
---
Shuttered After Only 26 Previews And 23 Regular Performances
On May 10, 2015, Doctor Zhivago played its last performance in a very short Broadway run, which began with the first preview on March 27, 2015. After the opening night on April 21, 2015, it became clear that Doctor Zhivago would not be surviving based on the commendation of the critics, as there was almost unanimous agreement that the show was not very good.
Based on Boris Pasternak's novel from 1957 of the same name, and immortalized on screen in the 1965 film directed by David Lean and starring Julie Christie and Omar Sharif, this epic musical set during the Russian Revolution just couldn't cut it in this competitive Broadway season.
Talented Creative Team Can't Save "Doctor Zhivago"
Playing at the Broadway Theatre, the show was directed by Des McAnuff (700 Sundays, Jersey Boys, Jesus Christ Superstar), and choreographed by Kelly Devine (Rocky, Rock of Ages).
In addition, the book is written by Michael Weller (Spoils of War, Loose Ends), with music by Lucy Simon (The Secret Garden), and lyrics by Michael Korie (Grey Gardens) and Amy Powers (Sunset Boulevard). Still, the pedigree of its creative team could not save this musical, which failed to receive any Tony nominations or pull any significant weight at the box office.
Unanimous Discontent Among Critics And Tony Voters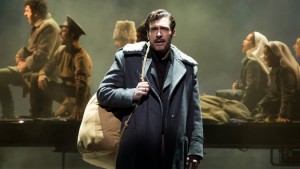 This show was the third to announce its closing following disappointing results from the Tony nominations. The first was Living on Love, which also received zero, and the second was The Heidi Chronicles, which only received one nomination for Elisabeth Moss, in the category of Best Actress in a Lead Role in a Play.
Even with poor critical response, Tony recognition can sometimes save a show just enough by boosting its renown among theatregoers. In this case, Doctor Zhivago had no luck in either account.
European Novels Don't Make Good Musicals
When the reviews came out, all major critics gave it a thumbs down. Charles Isherwood at The New York Times asked in his review, "Is it over yet?", proclaiming the show to be turgid, baggy, and expositional. Frank Scheck of The Hollywood Reporter compared it to a poor man's Les Miserables. David Cote of Time Out New York did the same, referring to Doctor Zhivago as a pale juggernaut in comparison.
Jesse Green from Vulture wanted to affirm once and for all that sprawling European novels do not make good musicals, as evidenced by this failure. Furthermore, Joe Dziemianowicz from the New York Daily News called it an "epic miss."
Struggles At The Box Office
In the show's last week of performances, the week ending May 10, 2015, Doctor Zhivago reached its peak at the box office, which amounted to $537,474. That represented only 44.79% of its gross potential. With a top ticket price of $247.00, the average paid admission that week was $62.66.
Even with such discounting, the average audience capacity was only 72.5%. Though these numbers are not as dire as some other shows that continue to run, the producers made the decision to close the show upon the announcement of the Tony nominations, as they could not imagine the musical gaining any more traction.
May See Better Success Internationally
With a capitalization of $12 million, the show was reported to have brought in a total gross of less than $2.7 million, not to mention running costs.
However, there is still hope for the 50-odd producers, many of them first-time Broadway producers convinced to invest in this production, as the show may be able to make back some of its money on further productions and tours, both nationally and internationally. At least, the brand name should hold some weight on tours around the world.