Deaf West "Spring Awakening" Comes to Broadway This Fall
The Los Angeles Deaf West Theatre Company Production Of Spring Awakening Has A Surprise Transfer To Broadway.
---
Acclaimed Los Angeles Production of Tony Winning Musical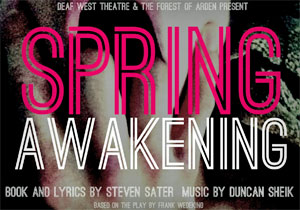 In a surprise move, the Deaf West Theatre Company production of Spring Awakening has announced that it will come to Broadway this fall. Following the announcement that It Shoulda Been You will be closing on August 9, 2015 and vacating the Brooks Atkinson Theatre, the producers of Spring Awakening revealed that they will be taking advantage of the opportunity to move the production out east.
With previews beginning on September 8, 2015, and an official opening night scheduled for September 27, 2015, Spring Awakening is scheduled to run for an 18 week limited engagement with a closing date of January 9, 2016.
"Spring Awakening" Premieres On Broadway
Spring Awakening premiered on Broadway in December 2006, and it conquered the 2007 Tony Awards by winning eight awards of their 11 nominations, with the wins including Best Musical, Best Book of a Musical, Best Original Score, Best Direction of a Musical, and Best Choreography.
Spring Awakening has music by Duncan Sheik (American Psycho) and book and lyrics by Steven Sater. The original production was directed by Michael Mayer with choreography by Bill T. Jones. Though this production will step back onto the Broadway stage less than a decade later, it will be a very different Spring Awakening.
Deaf West Theatre Company's Second Time On Broadway
The Deaf West Theatre company was founded in Los Angeles in 1991, since which time they have been dedicated to producing theatre made for deaf and hearing audiences both, utilizing both deaf and hearing actors.
The highest profile show of theirs to date was Big River, the Huckleberry Finn tale which transferred to Broadway in 2003 and was nominated for Best Musical. That year, the Deaf West Theatre company was also given an honorary Tony Award for their contributions to theatre.
Transferred From Beverly Hills
This production of Spring Awakening will be the second Deaf West production to make it to Broadway. Spring Awakening, which is based on an 1891 German play of the same name by Frank Wedekind, tells a story about teenagers reckoning with inner and outer tumult and dealing with their own burgeoning sexuality.
One of the main themes is the teenagers' difficulty communicating with parents who do not understand them, and that is one reason why the show is a particularly apt choice for a Deaf West production. This production, directed by Arden, premiered in Los Angeles at Inner-City Arts and then transferred to Beverly Hills' Wallis Annenberg Center for the Performing Arts, where it concluded its run on June 7, 2015. After receiving rave reviews, the show decided to move to Broadway.
The Beauty Of Using Both Hearing And Non-Hearing Performers
According to Charles McNulty's rave review in the Los Angeles Times, this production is a very successful reimagining of the modern classic, going above and beyond the mere fact of using deaf performers as well as hearing performers. The choice of which characters are to be played by hearing actors, or non-hearing actors, or sometimes both, is very thoroughly conceived.
For example, one of the lead roles, a young woman named Wendla, is portrayed by two actors – one hearing, and one non-hearing who uses sign language. Therefore, we are able to step inside her head even more than usual, understanding the alienation and fear she is encountering while also listening to the beauty of these feelings expressed in song.
A Beautiful Ensemble Story
However, the male lead of Melchior is played solely by one actor who sings his heart out. Overall, this production seamlessly integrates the complex logistics of this sometimes dual casting, while making the audience completely suspend disbelief as they are lead into the heart of this beautiful ensemble story.