"Dames at Sea" Opens at the Helen Hayes Theatre
The Revival Of Dames At Sea Premiered At The Helen Hayes Theatre On Broadway This Week To Mixed Reviews From Major Critics, And Unfortunately, A Disappointing Box Office Performance
---
The Broadway Premiere of a Musical from 1966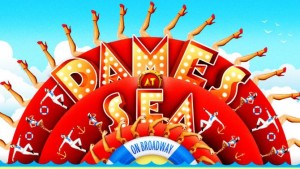 Dames at Sea is now open at the Helen Hayes Theatre, after having played 32 preview performances. It is presently scheduled for an open-ended run, as many musical opt to do. However, judging by the current box office figures as well as the luke warm to middling reviews, the musical may not be around for very much longer. Nevertheless, it is still a historical production, as this show first premiered Off-Off Broadway in 1966 at Caffe Cino, when it made the career of Bernadette Peters.
Peters, who was at that time a newcomer to the musical theatre scene in New York, has since gone on to become one of Broadway's biggest stars, having been nominated for a total of seven Tony Awards, and having won two in addition to an honorary award. Peters than stayed with Dames at Sea when it transferred to a bigger theatre Off-Broadway in 1968. In 1969, it transferred to the Duchess Theatre in London, and returned to the East Coast for a regional production at the Paper Mill Playhouse in Millburn, New Jersey in 1973. However, this 2015 production marks the first time the show has appeared on Broadway. With book and lyrics by George Haimsohn and Robin Miller, and a musical score by Jim Wise, this production is directed and choreographed by Randy Skinner.
Mixed to Negative Reviews from Major Press Outlets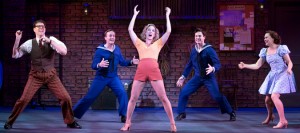 When the show opened this past week, it received a mixed review from Charles Isherwood at the New York Times, who admitted that the show will delight those longing for nostalgia from the so-called Broadway Golden Age, but that it still grew tiresome with too many long dance breaks. Adam Feldman from Time Out New York was equally on the fence, calling it a harmless piece of wet fluff, and remarking that it is overwhelmingly tongue in cheek.
Jesse Green at Vulture was less forgiving, astonished that producers would choose to bring this show to Broadway and deciding it must have to do with some mathematical calculation that it takes 35 years for one generation to forget about a show and introduce it to the next. Terry Teachout from The Wall Street Journal was also quite negative in his response, calling it ultra-campy and declaring he is not sure why it ever made it to Broadway. Still, he did enjoy the charm of the revival, as well as the visual ingenuity of the director and the flawless orchestrations done by Jonathan Tunick. Only David Rooney from The Hollywood Reporter was exuberant in his praise, calling it infectious and enjoying its featherweight pleasures.
Struggling at the Broadway Box Office
In the last reported week of box office figures, the week ending November 1, 2015, Dames at Sea brought in a weekly gross of only $143,007 over the course of eight performances. This represents a startlingly low figure of 24.80% of the show's gross potential. With a top ticket price of $227.00, the average paid admission was $49.01, and the average audience capacity was filled up to 62.6%, even with such heavy discounting.
Over the five and a half weeks that the show has been running thus far, the average percentage reached of gross potential has been 35.82%. This does not bode very well for the future of this show, along with its less than stellar set of reviews. It appears that the negative reviews had a directly negative impact on ticket buyers' interest in the show, as the previous week the percentage reached of gross potential was 41.96%, with a decrease of $72,443 in weekly gross.