Cirque du Soleil Bets Big On New York City
Cirque Du Soleil Is Betting Big On New York City, With Paramour Coming Straight To Broadway, Kurios On Tour In Randall's Island For A Month, And A Dedicated Venue In The American Dream Mall
---
Three Upcoming Shows Slated for New York Vicinity Including Broadway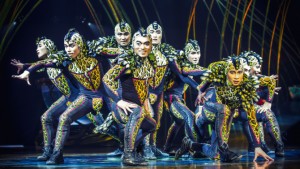 Cirque du Soleil, the largest theatrical producer in the world, has been mounting spectacle-filled productions all over the globe since it was founded in Quebec, Canada in 1984. Specializing in circus spectacle with cultural nuance and different degrees of narrative elements, Cirque du Soleil has become increasingly popular in Las Vegas, where its present fare includes Mystère, O, Zumanity, Kà, Love, Criss Angel Believe, Zarkana, and Michael Jackson: One.
New York, however, has not historically been a city of great success or interest for Cirque du Soleil. However, 2016 appears to be the year when this will change, or at least try to. First, Paramour will come to the Lyric Theatre in April 2016, and then Kurios will spend the month of October 2016 on its tour on Randall's Island, New York. This is in addition to grand plans to play 10 shows per week in its dedicated new theatre at the upcoming American Dream Mall in the Meadowlands of New Jersey, starting summer 2017.
"Paramour" – Cirque du Soleil's First Show Intended for Broadway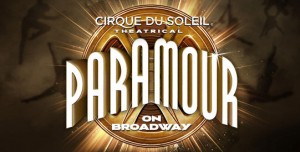 Following two failed attempts at producing a Cirque du Soleil show in New York City (Banana Schpeel in 2010, and two consecutive summers of Zarkana in 2011 and 2012), Cirque du Soleil is now bringing its first ever show to New York that was conceived specifically for Broadway: Paramour. Playing in the enormous Lyric Theatre, Paramour may stand a chance to capitalize on the largess of this venue, where previous shows have failed including Spiderman: Turn Off the Dark, On the Town, and most recently, Lord of the Dance: Dangerous Games.
To appeal to the Broadway market, Paramour is said to feature more of a storyline than their traditional fare. This $25 million production will begin previews on April 16, 2016, ahead of an opening night on June 2, 2016. The show is scheduled for an open-ended run, and is presently selling tickets through November 20, 2016. On this timeline, the show will not be eligible for the Tony Awards, demonstrating that fitting into the Broadway community is not Cirque du Soleil's main target; rather it merely seeks to profit from its ticket buying market.
Touring Show "Kurios" to Come to Randall's Island October 2016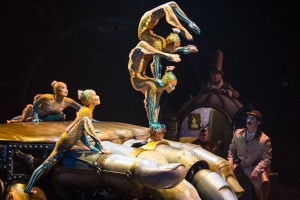 Following the Broadway premiere of Paramour, Cirque du Soleil will bring its successful touring show Kurios to nearby Randall's Island, located in the East River between the Upper East Side of Manhattan and Long Island City, Queens. Randall's Island is best known for its parkland, spanning over 400 acres and comprising athletic fields, driving ranges, and picnic grounds. Within this same Randall's Island Park is where Cirque du Soleil sets up shop, in what they call The Grand Chapiteau (Big Top), a venue that seats over 2,600 people.
Kurios: Cabinet of Curiosities is created and directed by Michael Laprise, and centers on a 19th century inventor who creates a machine that defies space and time, reinventing his surroundings in a steampunk fashion with characters from another dimension. Touring since its April 2014 premiere in Montreal, Kurios is presently in Los Angeles until February 7, 2016, after which it will play Atlanta, Boston, and Washington, D.C. before coming to Randall's Island, New York from September 29, 2016 to October 30, 2016.
Cirque du Soleil Finds Permanent Home at American Dream Mall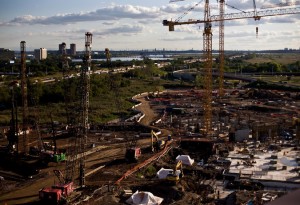 Placing early bets that its 2016 attempts to attract New York City theatregoers will be successful, Cirque du Soleil has already signed on to take part in an arguably risky endeavor: the newly reconstructed American Dream Mall in the Meadowlands of New Jersey. This enormous shopping project is still under construction, with billions of dollars spent to resurrect a failed project once known as Xanadu, and is slated to be up and running by July 2017.
With Toys "R" Us having closed its flagship Times Square store, that toy store will be the anchor retailer in this new mall, which also will boast luxury boutiques, America's largest indoor amusement park with the world's steepest roller coaster, America's largest indoor water park with the world's tallest twin water slides, the first indoor ski hill on the continent of North America – and a 1,500 seat theatre dedicated to Cirque du Soleil shows. Though the show to be performed for the mall's debut has not yet been announced, it will play 10 performances a week. Therefore, all things considered, Cirque du Soleil is going gaga for New York City, from the Meadowlands of New Jersey to Randall's Island on the East River – and Broadway in between.