Mamet's China Doll Finally Opens on Broadway Following Delay
China Doll Opened At The Schoenfeld Theatre On Broadway To Terrible Reviews, With Some Sympathy For Pacino's Performance But Critics Unanimously Agreed That The Play Is Horrible
---
New David Mamet Play Starring Al Pacino Gets Some Bad Buzz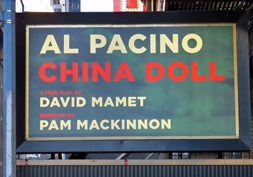 To date, David Mamet has had a total of 16 productions of his work performed on Broadway. These have been a mixture of new plays, and revivals of his well received work including American Buffalo, Glengarry Glen Ross, and Speed-the-Plow. Furthermore, David Mamet has written and directed many films such as State and Main, House of Games, Oleanna, Redbelt, and The Winslow Boy, and also written the screenplays for many other films including Hannibal, The Untouchables, Wag the Dog, and The Postman Always Rings Twice. Beyond this, Mamet is a respected critic and theorist of drama, acting, and many other topics.
Recent plays of his on Broadway have received some negative feedback. Prior to the present production of China Doll, Al Pacino also starred in a revival of David Mamet's Glengarry Glen Ross, where he was criticized for a slow paced and stilted performance, and prior to that, Mamet premiered a new play of his called The Anarchist, which received horrible reviews and shuttered its doors after just 17 post-opening performances. The current revival of China Doll, despite delaying its opening night for two weeks to give the show more time to prepare before reviews, appears to be another play in the string of bad work on Broadway for Mamet.
Critics Surprisingly In Agreement that the Show is Grossly Overrated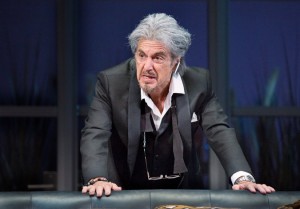 In his review of China Doll, Ben Brantley of the New York Times called the show saggy and incomprehensible, and praised the patience of the supporting actor Christopher Denham for maintaining his sanity in such a dire situation. Jeremy Gerard from Deadline was less critical of Pacino's performance, declaring that the greatness in Pacino's performance has returned with a vengeance, but he hates the play, deeming that Pacino is apologizing for the lazy world sketched by Mamet.
Marilyn Stasio from Variety continued the string of strong dislike, calling China Doll a "non-play" and an overblown character study. Jesse Green from Vulture agreed with Deadline that Pacino offers flashes of brilliance, but sympathizes with him for sustaining in such a mucky and narrative-less piece of writing. David Cote from Time Out New York was reminded blatantly of Donald Trump, in a bad sense, comparing the experience to watching Pacino at home on the phone complaining to AppleCare Plus regarding a malfunctioning computer.
Broadway Ticket Buyers are Hungry for More
Despite wide reports of this show's faults, even before the opening night reviews hit the presses, ticket buyers continue to flock to the theatre. In the last reported week of box office figures, the week ending December 13, 2015, China Doll brought in $922,936 over the course of six performances, which represents 96.42% of its gross potential. The previous week, the show brought in $1,109,962 over the course of seven performances, representing 100.03% of its gross potential. In the first three weeks of previews, the show brought in over 110% of its gross potential, peaking with a weekly gross of $1,215,881 in the week ending November 1, 2015.
Theatre-goers are clearly not dissuaded by the bad reviews, just as they were not dissuaded by the reports that Al Pacino could not memorize his lines, and that David Mamet was refusing to attend preview performances or even let director Pam MacKinnon change any of his less-than-stellar lines during previews. The play is scheduled to run on Broadway until January 31, 2016; it will be interesting to see if these excellent box office figures continue past the tourist season, where out-of-towners will happily pay $200 a ticket to see Pacino take a shower, much less perform front and center in David Mamet's most recent misstep, in a career so full of excellence for both of them.
A Closer Look at the Broadway Show
Al Pacino in China Doll is scheduled to play on Broadway until January 31, 2016 at the Gerald Schoenfeld Theatre at 236 West 45th Street (a theatre owned by the Shubert Organization). Tickets are available at Telecharge.com