"Children of a Lesser God" Begins Previews
Mark Medoff's Children of a Lesser God has begun previews on Broadway starring Joshua Jackson and Lauren Ridloff in a production directed by Kenny Leon.
---
Revival of Mark Medoff's Play Directed by Kenny Leon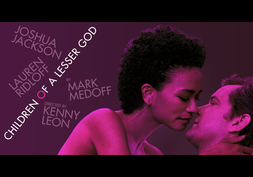 On March 22, 2018,
Children of a Lesser God
began previews in a Roundabout Theatre Company production at Studio 54, ahead of its opening night scheduled for April 11, 2018. This play is written by Mark Medoff, and won the Tony Award for Best Play when it premiered on Broadway in 1980, in addition to the awards for Best Performance by a Leading Actor in a Play for John Rubinstein, as well as Best Performance by a Leading Actress in a Play for Phyllis Frelich. This is the play's first ever Broadway revival. The story concerns the relationship between a teacher at a school for the deaf and his deaf former student, who then works as a janitor at the school. Their conflicting opinions on speech and deafness create tension and discord, but nonetheless the two develop a romantic relationship. Following the play's debut, it was adapted into a feature film of the same name, which Medoff co-wrote with Hesper Anderson, and which was directed by Randa Haines. The film won the Academy Award for Best Actress in a Leading Role for Marlee Matlin. Presently, the Broadway revival is directed by Kenny Leon, whose previous Broadway directorial credits include
Holler if Ya Hear Me
,
A Raisin in the Sun
,
Stick Fly
,
The Mountaintop
,
Fences
,
Radio Golf
, and
Gem of the Ocean
. This revival had an out-of-town tryout at the Berkshire Theatre Company, and transfers intact to Broadway.
Joshua Jackson and Lauren Ridloff Lead Combined Deaf and Hearing Cast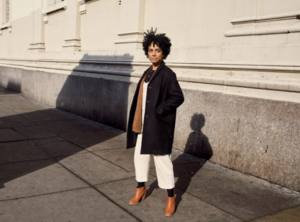 This production of
Children of a Lesser God
stars Joshua Jackson as the speech teacher James Leeds, making his Broadway debut. Jackson is well known for his television roles on such shows as
Dawson's Creek
and
Fringe
, and films including
Cruel Intentions
,
The Skulls
,
Bobby
,
One Week
,
The Safety of Objects
,
The Laramie Project
, and
Americano
. His stage debut was in the West End in 2005, starring opposite Patrick Stewart in David Mamet's two-hander
A Life in the Theatre
.
Children of a Lesser God
marks his long-awaited return to the major stage. Starring opposite Jackson in the role of student turned janitor Sarah Norman is newcomer Lauren Ridloff, a deaf actress who had a small part in Todd Haynes' recent film
Wonderstruck
, but whose rise to the limelight is owing to her former position as director Kenny Leon's sign language tutor. Leon, who has worked with such actors as Denzel Washington and Viola Davis, discerned Ridloff's star power from her exuberant physicality, and is to thank for her being given this incredible opportunity. The cast also includes Anthony Edwards as Mr. Franklin; Edwards is a multiple Emmy nominee for his role on
ER
, and whose film credits include
Top Gun
,
Planes
,
Miracle Mile
, and
Zodiac
, also making his Broadway debut. In addition, Julee Cerda is a hearing actress who plays Edna Klein; her credits include
Orange is the New Black
and
Homeland
.
The role of Lydia is played by deaf actress Treshelle Edmond, who previously appeared on Broadway in the Deaf West production of
Spring Awakening
, and whose television credits include
Master of None
. The role of Mrs. Norman is played by hearing actress Kecia Lewis, whose previous Broadway credits include
Leap of Faith
,
The Drowsy Chaperone
,
Chicago
,
Once on this Island
, and
Dreamgirls
. Finally, the cast includes deaf actor John McGinty as Orin Dennis; though McGinty is making his Broadway debut, he has had highly acclaimed leading roles in regional productions of
Tribes
and
The Hunchback of Notre Dame
.
Production to Incorporate Technology to Be Accessible for Deaf Audiences
The producers have taken steps to make sure that this production of
Children of a Lesser God
will be accessible to all audiences. The show has supertitles, which are integrated seamlessly into the set design by Derek McLane. In addition, audience members are encouraged to download the GalaPro app on Apple or Android devices, and furthermore there is a special
Children of a Lesser God
app which further enhances the experience for audience members who are hard of hearing.