Cast and Writers of Broadway's Big Fish Will Appear at 92nd St Y
Cast And Writers Of Broadway's Big Fish Commit To An Event At 92nd St Y For A Conference And Talk About The Journey From Book To Film To Stage
---
The Talented Cast And Creative Team Of Broadway Musical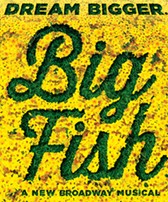 Members of the cast and creative team of the new Broadway musical Big Fish will gather at the 92nd Street Y for a discussion of the show on November 24 at 7:30pm. Directed by Susan Stroman (The Producers) and starring Norbert Leo Butz (Dirty Rotten Scoundrels), Big Fish recently had its official opening at the Neil Simon Theatre.
Andrew Lippa, Big Fish's composer, will appear alongside stars Kate Baldwin and Bobby Steggert. Also joining them will be Daniel Wallace, who wrote the original novel that the musical of Big Fish is based on. Furthermore, they will be joined by Dan Jinks and Bruce Cohen, who served as producers on both Tim Burton's 2003 film adaptation and the Broadway musical, and screenwriter John August.
The Journey Of "Big Fish" From Book To Film To Stage
Together this panel will discuss Big Fish's journey from book to film to stage. The evening will also include musical performances by Baldwin and Steggert, who play Sandra Bloom and Will Bloom in the Broadway show.
Big Fish is about traveling salesman Edward Bloom, a man who lives a wildly colorful life, which he recounts in thrilling stories that he shares with everyone around him. But as he is readying to be a father himself, Edward's son Will decides to discover the truth behind his dad's tall tales. To get tickets (which are as low as $29) to see the Big Fish discussion at the 92nd Street Y, go to www.92y.org.