Carved Wooden Animals and Crystal Chandeliers: It's the Tavern on the Green Auction
Following The Recent Announcement That Tavern On The Green Has Declared Bankruptcy, An Auction Will Be Held To Sell The Glamorous Decor To Repay Debts
---
Auction Of New York's "Tavern On The Green" Glitzy Decor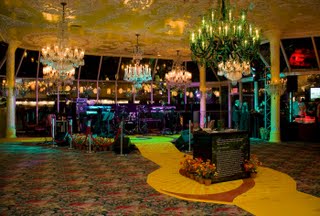 Want a giant crystal chandelier? What about some ornate oversized silver candelabras? Well, there's a new chapter in the ongoing saga of New York's Tavern on the Green restaurant, which recently declared bankruptcy and is slated to be transferred to a new owner next month. (Yes, you read about it here over the summer...)
Next month--January 13, to be exact--many of the restaurant's famously glitzy fixtures and decorative pieces will be auctioned off at Guernsey's Auction House.
Unique Items Up For Bid
Profits of the sale will be put towards the debts owed to more than 450 creditors, one of which is Kay LeRoy, who was married to the restaurant's founder, Warner Leroy. She lent the company, headed by her daughter Jennifer, $1.9 million to allow the restaurant to meet its payroll.
Up for grabs now: Gilded copper weathervanes and a three-foot carved monkey from the Black Forest. Need a baby grand piano? Or white-painted wooden elks? (You can buy them as a pair.) They can be yours for the right price, as can a topiary of King Kong (his debut was showcased at a party at the restaurant hosted by Fay Wray, of the original "King Kong" movie.)
Absentee Internet Bidding Allowed
You can also bid on some of the gaudy outfits for which Mr. Leroy was known. The sale will be held in the Crystal Room, and will feature absentee Internet bidding. Although the restaurant is currently mired in a host of messy legal matters involving its finances and staff, it is still supposed to be taken over this winter by Dean Poll, who runs the Boathouse Restaurant in Central Park.
Discount Broadway Tickets
---
---