"Carousel" Opens to Generally Positive Reviews
Jack O'Brien's revival of Rodgers and Hammerstein's Carousel opened to mixed to positive reviews, starring Renée Fleming, Joshua Henry, and Jessie Mueller.
---
Jack O'Brien Directs Rodgers and Hammerstein Classic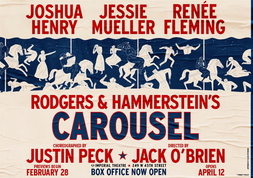 On April 12, 2018,
Carousel
had its official opening night at the Imperial Theatre, where it had been running in previews since February 28, 2018. This musical, with book and lyrics by Oscar Hammerstein II and a musical score by Richard Rodgers, first premiered on Broadway in 1945, went on national tour for two years, and then played London's West End in 1950. Meanwhile, subsequent Broadway productions included 1949, 1954, 1957, and 1994. 24 years later, it is well due time for another revival, and the challenge was taken up by producers Roy Furman and Scott Rudin, in a production directed by Jack O'Brien. The director has previously helmed such Broadway works as
John Lithgow: Stories by Heart
,
Charlie and the Chocolate Factory
,
The Front Page
,
It's Only a Play
,
Macbeth
,
The Nance
, and many more. Meanwhile, Rodgers and Hammerstein are well known for their massive contribution to the American musical theatre canon. Their other works include
The King and I
,
South Pacific
,
Rodgers + Hammerstein's Cinderella
,
Flower Drum Song
, and
The Sound of Music
. In this production, the cast is led by Renée Fleming (
Living on Love
), the magnificent opera star whose accolades include four Grammy Awards and the National Medal of Arts. Other lead parts are played by Joshua Henry (
Shuffle Along, Or The Making of the Musical Sensation of 1921 and All That Followed
,
The Gershwins' Porgy and Bess
), Jessie Mueller (
Waitress
,
Beautiful: the Carole King Musical
,
The Mystery of Edwin Drood
, Margaret Colin (
The Columnist
,
Arcadia
), Alexander Gemignani (
Violet
,
The People in the Picture
), and Lindsay Mendez (
Significant Other
,
Godspell
).
Mixed to Positive Reviews from the Major Critics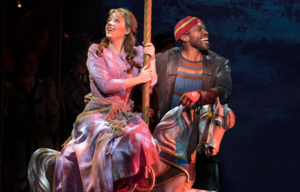 In response to seeing the show in the lead-up to opening night, Ben Brantley from The New York Times called the production a "heartfelt, half-terrific revival" and also "probing," as it "takes the liberty of beginning not on the grounds of a carnival in Maine, as is customary, but in heaven, where destinies are foreseen." Marilyn Stasio from Variety was more won over, calling Joshua Henry's performance "electrifying," praising his "voice that while warm and mellow, can also soar with joy and tremble in despair." She also praises the show itself, which contains, as she says, "some of the musical theater's most beautiful and enduring songs." Greg Evans from Deadline was also a big fan, calling the production "marvelous," enjoying O'Brien's skillful direction, Justin Peck's "balletic choreography," and Santo Loquasto's "dreamlike design." Breanne L. Heldman from Entertainment Weekly stated upfront that she believes Carousel is not timeless like some musicals, declaring decisively that "the story is Just. Plain. Bad." Still, she praised the performances of "several of the hottest actors currently gracing the Great White Way." Roma Torre from NY1 was also on the fence, stating that the production could never match the performance of Audra McDonald from the last revival, but also praises the orchestral performance as "pure ear candy."
Box Office is Good But Not Great
In the last week of reported box office figures, the week ending April 8, 2018, Carousel brought in a weekly gross of $1,190,735, which represents 73.38% of its gross potential. This is the best box office week the show has had thus far, as the previous week brought in $1,070,265, or 65.95% of its gross potential, and the week before that had a weekly gross of $1,075,699, or 66.29% of its gross potential. To date, the show has brought in an average of 67.04% of its gross potential. This is certainly not bad for the revival of an arguably dated musical with stars of musical theatre and opera but not the silver screen. Nevertheless, the box office does have room for growth, and awards season will certainly have an impact on the longevity of this musical revival, which has not yet announced its closing date.