Carole King Musical Eyes Broadway in 2014
The New Musical Beautiful Is Scheduled To Premiere On Broadway In Spring 2014 Celebrating The Music Of Grammy Winning Artist Carole King
---
New Musical "Beautiful" Debuts On Broadway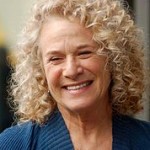 The new musical Beautiful, which celebrates the music of Grammy-winning artist Carole King, is planning for a Spring 2014 debut on Broadway. The show is expected to play a try-out engagement in another city this autumn before coming to Broadway.
A director has not yet been announced for the project, but the musical will have a book written by Douglas McGrath, a well-known writer in Hollywood who wrote the script for the Woody Allen film Bullets Over Broadway (also coming to Broadway in musical form soon) and the Jane Austen adaptation Emma.
The True Story Of Carol Klein
Beautiful tells the true story of Carol Klein, the spunky Brooklyn girl who worked her way into the music biz as a teen and eventually became iconic pop songwriter and musician Carole King. The musical showcases hit songs that King penned along with songwriters like Barry Mann, Cynthia Weil, and Gerry Goffin.
"What's so great about this for me is that musicals were a major influence on my songwriting," said Carole King in a statement. "In fact, when Gerry and I first met, we made a bargain that I would write music for the Broadway show he wanted to write if he wrote lyrics for my rock 'n roll songs. The songs took off, and the show idea never came to fruition. Now that our songs have merged with a Broadway show, we've come full circle."