Buying Broadway Tickets on Telecharge.com Just Got A Little Easier
Buying Broadway Tickets On Telecharge.Com Just Got A Little Easier With Their Graphical Search Tool That Allows Buyers To See Their Seats In 3D, Offering Improved Capabilities For Searches
---
Telecharge Finally Updates Their Aging Ticket Sales Website Telecharge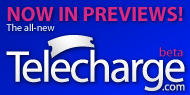 It's been five years in the making, but searching for Broadway show tickets on Telecharge.com just got a little easier as they just launched their Beta version of their re-designed site, which we reviewed in a previous post on this blog.
The new version looks different, but more importantly, it works differently. With the site's new capabilities, particularly regarding ticket searches, Telecharge.com is finally catching up to Ticketmaster.com.
But they are still not there yet, as they lack functionality and utilize an awkward design that doesn't appear to have been through adequate user testing yet.
Fortunately the majority of Broadway shows that sell tickets on Telecharge.com do actually choose to offer users the option of selecting seats from the theater map.
Current Broadway Shows Being Sold on Telecharge
A current review of Broadway shows on Telecharge showed that the following plays and musicals support the graphical search: The Anarchist, The Best Man, Chaplin, Chicago, Dead Accounts, An Enemy of the People, Glengarry Glen Ross, Grace, Mamma Mia, Nice Work If You Can Get It, Once, One Man Two Guvnors, The Performers, The Phantom of the Opera, Rebecca, Rock of Ages, Sister Act, War Horse, and Who's Afraid of Virginia Woolf?Broadway shows that do not currently support the graphical search function include: The Book of Mormon, Bring It On: The Musical, Clybourne Park, The Heiress, and Jersey Boys.
Tickets Brokers May Game The System
It is unclear why these shows are hold-outs, but it could be that they are concerned that ticket brokers will use the new feature to game the system (a theory supported by the fact that two of Broadway's most popular shows, The Book of Mormon and Jersey Boys, are among the few that don't use the map search).
There may also be a concern among Broadway producers that, because the map allows users to get a good sense of how ticket sales are going, potential ticket buyers may be less inclined to buy tickets for a show that has a lot of availability and therefore seems "unpopular".
Broadway producers have always been rather cagey about declaring sales numbers, and the seat availability map lays bare the reality of sales numbers at a real-time pace. It is anticipated that the Shuberts will fine tune the telecharge.com beta website over the next few weeks, with an apparent full launch date in the Fall of this year.