"Burn This" Out, "Sunday in the Park with George" In
Burn This Will Not Reopen The Hudson Theatre As Previously Announced. Instead Sunday In The Park With George, With Annaleigh Ashford Will Have The Honor.
---
Stephen Sondheim And James Lapine Musical Now Set To Reopen Hudson Theatre
Lanford Wilson's 1987 play Burn This was set to play a Broadway revival with performances beginning in February 2017, followed by an opening night on March 6, 2017.
Jake Gyllenhaal was announced to play the lead role of Pale, originated by John Malkovich, in a production directed by Michael Mayer. However, in October, it was announced that this production would be postponed due to scheduling conflicts, which were not specified.
"Sunday In the Park With George" To Reopen Hudson Theatre
This production was going to be all the more historic because it was to mark the reopening of the legendary Hudson Theatre, which is a gorgeous venue in the heart of the Broadway district on West 44th St. The building was originally built in 1903, but since 1968 it has not been functional as a Broadway house, instead taking on gigs as a corporate venue, a blue movie theatre, and a television studio.
In 1987, the building received landmark status, but only very recently was it purchased by the UK based Ambassador Theatre Group, who undertook a massive renovation. Burn This was set to be the first production in the renovated space. However, it has recently been announced that given the postponement of Burn This, a new revival of Sunday in the Park with George, with a book by James Lapine, and music and lyrics by Stephen Sondheim, will take on the honor of reopening the Hudson Theatre. The show is to be directed by Sarna Lapine, who is James Lapine's niece.
Jake Gyllenhaal To Star In Both Shows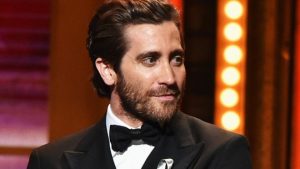 In an unusual turn of events, the show that has taken the place of Burn This shares its lead actor, Jake Gyllenhaal. Gyllenhaal is set to star in Sunday in the Park with George as well, alongside Annaleigh Ashford.
While it is not clear exactly what the scheduling conflicts were that led to the postponement of Burn This, one of two things is possible. First, it may have been that Jake Gyllenhaal had some sort of other commitment, perhaps a film, that would have conflicted with Burn This, but will not conflict with Sunday in the Park with George, as the latter is set to conclude on April 23, 2017, whereas Burn This may have required more of a time commitment.
"Burn This" Postponed To A Later Season
In his article from December 13, 2016, Michael Paulson of The New York Times purported this theory. However, another possibility is that the "scheduling conflicts" suggested by the Burn This producing team were actually that Sunday in the Park with George was vying for that same slot, with the same star, and perhaps the latter was able to raise their financing more expediently.
It may or may not be a coincidence that the announcement of the postponement of Burn This took place just three days before the one-off benefit performance of Sunday in the Park with George on October 24, 2016, which led to a two-performance extension, followed by the announcement of the musical's transfer to Broadway. In any case, Burn This has announced that the show is not cancelled, but rather postponed, and that it will play sometime in the 2017 to 2018 season.
Discount Broadway Tickets
---
---