Broadway's Elf Celebrates 12 Days of Christmas
Broadway's Elf Celebrates 12 Days Of Christmas By Giving Away Amazing Prizes To Random Broadway Audience Members Throughout November And December
---
12 Days Of Christmas With "Elf"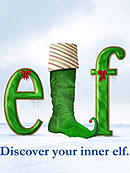 Starting with tonight's performance, the Broadway musical Elf will be celebrating its own version of the '12 Days of Christmas' in honor of the holiday season.
At the conclusion of select performances of the Christmas-themed musical taking place between now and December 13, a member of the show's cast will choose a random seat number. The person sitting in that seat will win a prize, courtesy of a participating partner.

Some Amazing Prizes Given Away
The prizes being given away (each of which is worth at least $250) include
A dessert class at chocolatier Jacques Torres
A $250 Macy's gift card
A spa package
A $500 luxury designer gift basket
A Hard Rock Cafe prize package
Two-night stay at Doubletree Metropolitan
A Warner Brothers DVD package
M&M's World prize package
These are the performances in which the special prizes will be given away:
11/27 at 7 pm
11/28 at 2 pm & 7 pm
11/29 at 7 pm
12/4 at 7 pm
12/5 at 2 pm & 7 pm
12/6 at 7 pm
12/11 at 7 pm
12/12 at 2 pm & 7 pm
12/13 at 7 pm
All one has to do to be eligible is buy a ticket to see Elf on Broadway on one of those dates and times. Furthermore, even the audience members who don't win the special prize at those performances will still get an assortment of offers from the show's participating partners.