Broadway Lottery Tickets Are No Longer The Bargain They Used To Be
Broadway lottery tickets may no longer be a cheap option for Broadway theatre-goers who are living on a budget.
---
Why the Broadway Ticket Lottery Started
It used to be that the more-prominent Broadway shows would offer ticket lotteries for their dedicated fans who may not be able to pay the costly prices for their favorite Broadway show's face-value tickets. Ticket lotteries were typically set up in this standard format. Entrants would be able to enter the Broadway ticket lottery for free, and the winners would then be asked to pay the standard rate of $10 per ticket if they won. The $10 price point, was something that everyone could afford and was just enough money to cover the ticket lotteries overhead expenses and nothing else. Broadway productions would keep a certain set of theatre seats off-the-market for every show, and the lucky winners would get the opportunity to view the show while sitting in the more-than-adequate first two rows of the Broadway theatre. In some cases, winners were even awarded an exclusive backstage tour from one of the show's cast members before the show began. The real reason that the bigger Broadway shows even offered lottery tickets in the first place was to recognize and show their appreciation to their less financially-fortunate fans, but things are now changing fast at the bright lights of Broadway.
What Most of the Broadway Ticket Lotteries are Doing Today
Now, many of the Broadway ticket lotteries are being used for entirely different reasons from the original goal. Many show producers will now introduce the ticket lottery system to their Broadway productions only as a cheap way to increase the show's marketing and ultimately increase profits. For the less-popular shows, they will use the lottery as a way to finish filling up the rest of their theatre's unsold seats, without having to resort to seat-fillers, which can damage their brand and the likelihood that they will pay full price next time. Many of today's Broadway show lottery ticket prices have increased significantly. For eager teenage fans, lottery tickets can now be just as expensive as a decent microwave oven or a set of computer headphones, and they might have to save up for both. Not only are many of the ticket lotteries no longer the cheap entertainment they used to be, but most of the ticket lotteries are now using their unsold ticket inventory for their ticket lottery, instead of the pre-assigned seats they had previously used. This means that the lottery winner's seats could be located anywhere inside the theatre, including all the way in the back of the theatre where it may be tough to see the show. Some lottery ticket winners have reported that their seats have been "partial view or obstructed view seats", which did not allow them to get the complete Broadway show experience and left them feeling quite unhappy.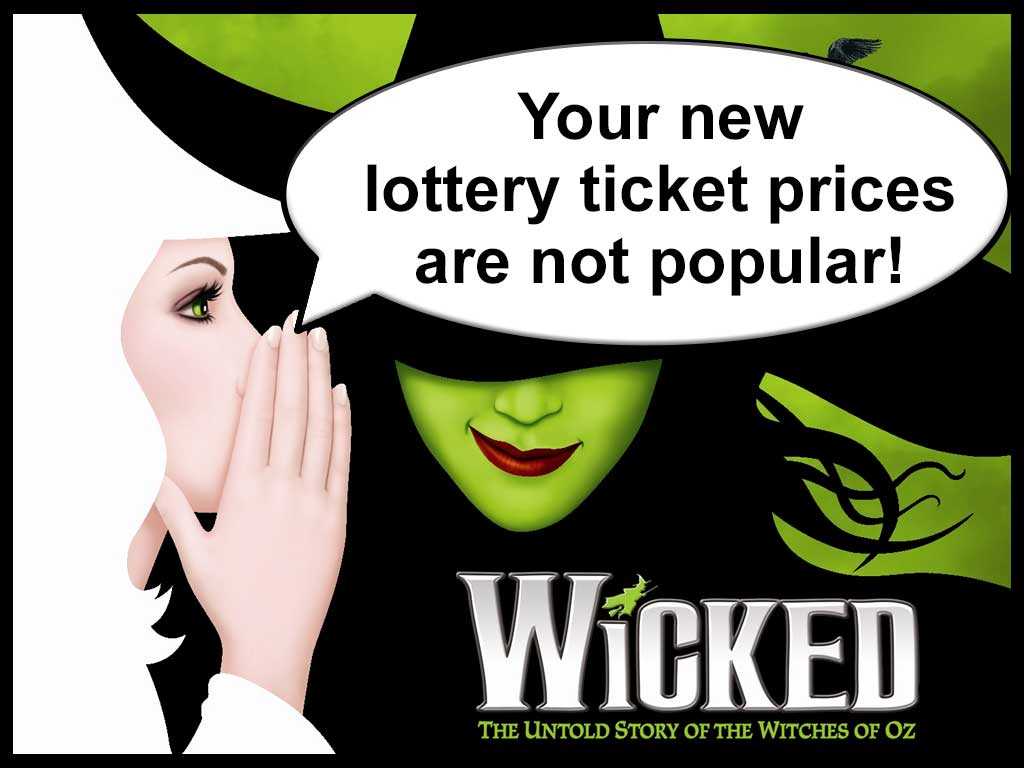 Best and Worst Broadway Show Lotteries
The long-time, popular Broadway musical Wicked, now offers the most expensive Broadway ticket lottery. Their lottery is hosted by The Nederlander Organization's own website, Broadwaydirect and they offer digital lottery tickets for Wicked for $49 (weekday) and $59 (weekend). There is not a set amount of saved theatre seats per performance, so the amount of available ticket inventory can vary wildly. This pricing is quite high for a Broadway show lottery ticket - it is more than double the price of many other Broadway lottery tickets. Wicked is not known as a Broadway show that is hurting for cash, so this move comes as a surprise move. In early 2016, Wicked crossed the billion dollar mark in total show revenue and they are only one of three Broadway shows to ever do this. Their new ticket lottery prices are so pricey, it has gotten people on the Broadway social media sites asking, "If lottery tickets are supposed to be a cheap way to see the show, then why is their lottery so expensive?" and "How does that extra few hundred dollars that they get from it, really help them?" In contrast, Hamilton (the hot Broadway show that needs no introduction), offers the best Broadway show ticket lottery. The Hamilton production hosts their own ticket lottery on the Ham4Ham website and "Ham4Ham" mobile app. The show follows the old lottery system, where winners pay only $10 per ticket if they win and they get to sit in the first two rows of the theatre. Hamilton runs their lottery with their same give-back mentality as they did when the show first started, as they are just trying to give a lucky handful of fans a performance to remember and they are more than happy to lap up the goodwill that this brings on the social media sites.
Conclusion
The Broadway ticket lottery system may be morphing into a new type of marketing scheme that may not be compatible with its original purpose, that original purpose being to give back to fans of the show that may not be able to afford tickets and the new purpose may just to sell unsold tickets at discount without damaging the brand by offering a straight discount code.


All Broadway Ticket Lottery Prices from Most Expensive to Least Expensive
| | | |
| --- | --- | --- |
| Broadway Show Name | Price per Winning Ticket | Host Lottery Website |
| Wicked | $49 and $59* | Broadwaydirect |
| Come From Away | $49 | Telecharge |
| Beetlejuice | $43 | Telecharge |
| Hadestown | $42.50 (+fees) | Luckyseat |
| Mean Girls | $42.50 | Telecharge |
| Ain't Too Proud | $42 | Telecharge |
| Dear Evan Hansen | $42 | Telecharge |
| The Lightning Thief: The Musical | $42 | Telecharge |
| Tootsie | $42 | Broadwaydirect |
| Beautiful: The Carole King Musical | $40 | Telecharge |
| Be More Chill | $40 | Telecharge |
| Betrayal | $40 | Telecharge |
| Derren Brown: Secret | $40 | Telecharge |
| Harry Potter and the Cursed Child | $40** | Todaytix |
| Oklahoma! | $40 | Telecharge |
| The Book of Mormon | $40 (+fees) | Luckyseat |
| The Phantom of the Opera | $40 | Telecharge |
| freestyle love supreme | $35 | Telecharge |
| Frozen | $30 (+fees) | Luckyseat |
| Aladdin | $30 | Broadwaydirect |
| The Lion King | $30 | Broadwaydirect |
| Moulin Rouge! | $29 (+fees) | Luckyseat |
| Slave Play | $29 | Telecharge |
| Hamilton | $10 | Broadwaydirect |
* prices change depending on the show date and time
** $20-per show part


Click here for a complete list of discount Broadway tickets including lottery ticket offers.

Discount Broadway Tickets
---
---