The Number Broadway Theatres Will Rise to 41
How Many Broadway Theatres Are There? What Types Of Shows Go Into What Broadway Theatres? How Many Theatres Are Available For New Shows?
---
How Many Broadway Theatres Are There?
There Are 40 Theatres on Broadway, Soon To Be 41 Theatres
There are presently a total of 40 theatres that are considered to be Broadway houses.
The first Broadway theatres that were built in what is now known as the theatre district, began to accumulate in the 1920s and 1930s, but Broadway houses have been built as recently as 1998, with the new Lyric Theatre being the latest.

Off-Broadway Between 100 And 499 seats
Technically, for the purposes of Actors' Equity regulations, an Off-Broadway house has a seating capacity of between 100 and 499 seats, and anything with over 500 seats is considered a Broadway theatre.
However, the majority of Broadway houses have over 1000 seats, and the largest theatres house over 1,900 audience members.
There Are Three Major Landlords On Broadway:
The Shubert Organization presently owns 17 houses
The Nederlander Organization owns 9 theatres
Jujamcyn owns 5 theatres
Non-Profit Theatre Institutions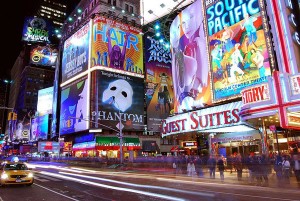 5 other theatres are owned by not-for-profit theatre institutions that also operate a number of smaller venues; of these, Roundabout owns three, Lincoln Center one, and the Manhattan Theatre Club one.
Of the remaining four theatres, Disney operates the New Amsterdam Theatre, Live Nation operates the Lyric Theatre (formerly the Foxwoods Theatre), and the Helen Hayes Theatre and the Circle in the Square Theatre are both independently run. Ultimately, it is the landlord who determines what show is allowed to play in each venue, and they also control ticketing, house management, and theatre operations.
Producers Face Trouble Finding Broadway Theatres
Though the number 40 may seem quite substantial, especially for theatre aficionados who aim to see all the shows playing on Broadway, it is actually quite restricted for producers to gain entry into any theatre, not to mention the ideal house for the show they are developing.
In addition to needing to build a relationship with the landlord in order to be awarded a theatre, there are just not that many theatres availability at the start of any given season. Time and again, one hears of a show being delayed due to lack of theatre availability.
Average Of Only 12 Theatres Become Available Every Year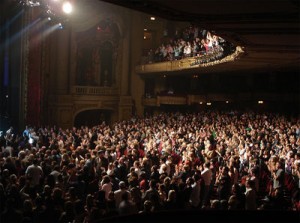 According to an article written by producer Ken Davenport on his blog "The Producer's Perspective," there may be an average of 12 theatres open for new shows each season, and most of these do not cater to large, showy musicals. How does he get to this number? Starting with 40, we can first subtract the Disney house and the five not-for-profit houses because they will always have a show to mount.
The real issue is that there are now plenty of long-running musicals that just don't seem to be going anywhere soon. Depending on how well the new musicals fare in coming years, that can be as many as twenty!
Long Term Shows Block The Newcomers
In addition to obvious lifers such as The Lion King, Wicked, The Phantom of the Opera, Chicago, and Mamma Mia!, there are more recent hits such as The Book of Mormon, Jersey Boys, Rock of Ages, Once, and Kinky Boots that don't appear ready to budge anytime in the near future, as well as new contenders such as A Gentleman's Guide to Love and Murder and the Les Misérables and Cabaret revivals.
If that leaves 16, there are at least 4 shows that are already in waiting lines for various houses, having reached agreements with the landlords.
One Dozen Broadway Theatres Up For Grabs
Therefore, there are only a dozen or so theatres that may be available if you're lucky, and these average about 1083 seats – which is too small for anything to become the next Wicked, grossing over $2 million in a week. Even The Book of Mormon had to compromise with the 1066-seat Eugene O'Neill, and they have been making up for it with overpriced premium seats.
Perhaps it's a good thing that the barrier to entry is so high, but unfortunately it is not quality alone that dictates who gets in. In any case, this does allow for a steady stream of new straight plays to come in each season, catering to smaller audiences and vying for literary immortality.
Discount Broadway Tickets
---
---