Broadway Stars Join For Anti-Defamation League Concert
Anti-Defamation Concert Event Will Be Held On November 25Th To Commemorate 100 Years Of Fighting Biogtry And Honor Sheldon Harnick For Lifetime Achievement Award
---
100 Years Of Fighting Hate And Bigotry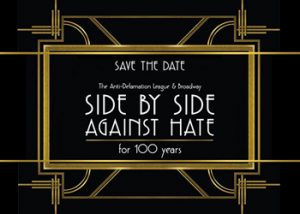 On November 25, a concert event titled "The Anti-Defamation League & Broadway: Side By Side Against Hate for 100 Years" will bring together several Broadway performers at the Hudson Theatre in the New York City theater district.
The event will be held at 8pm. Written by playwright Jonathan Tolins (Buyer & Cellar, Twilight of the Golds) and directed by Ted Sperling, the event commemorates the League's 100-year history of fighting hate and bigotry through a selection of Broadway songs.
Sheldon Harnick Receives Lifetime Achievement Award
Eden Espinosa, Robert Cuccioli, Lillias White, Carolee Carmello, André De Shields, Randy Graff, Michael McElroy, Stephen DeRosa, Jesse Manocherian, Jason Robert Brown, and The Mark Stuart Dance Company are among those scheduled to participate in The Anti-Defamation League & Broadway concert.
Broadway writer Sheldon Harnick (Fiddler on the Roof, Fiorello!, and She Loves Me) will be specially honored during the evening with a Lifetime Achievement Award (celebrating his 90th birthday, Harnick will even perform a duet with Randy Graff). Producer Harriet Newman Leve will be honored with a Distinguished Leadership Award and Adam Blanshay will be given a Future of Broadway Award. Tickets for this benefit concert start at $75 and go as high as $1,000. Purchase online at adl.org/broadway100.