Broadway Star Alan Cumming Releases Shakespeare Recording
Alan Cumming Recently Released A 22-Track Album In Which He Recites Many Of William Shakespeare's Most Revered Speeches While Preparing For Macbeth
---
Alan Cumming Released New Recording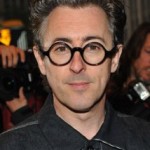 Just as he prepares to take on William Shakespeare's classic tragedy Macbeth (all by himself!) on Broadway at the Barrymore Theatre, Alan Cumming releases a new recording on which he tackles several of the Bard's works.
The Head That Wears a Crown, available from GPR Records, features Cumming reciting numerous speeches from Shakespeare plays.
Shakespeare's Most Revered Speeches
On the 22-track album are many of Shakespeare's most revered speeches, including "Now is the winter of our discontent" from Richard III, "Once more unto the breach" from Henry V, and "If music be the food of love, play on" from Twelfth Night, along with lesser-known passages.
The Head That Wears a Crown is already available for digital download, and it will be released in stores on April 23. Alan Cumming's one-man Macbeth begins previews on April 7, with its official Broadway opening set for April 21.