Broadway Show Ticket Sales w/e 9/9/2012
---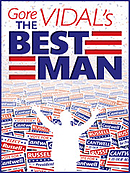 Total Broadway ticket sales revenue continued to fall sharply again this week, as anticipated, during this first week of September, bringing in less than $17 million total. The period between "summer break" and the opening of the new Fall shows can be a little bleak, but producers are hoping that once the new season gets into full swing over the next couple months, business will pick up, which the ticket sales history from previous years confirms. This week, the Broadway big guns like
Evita
and
Wicked
were far from filling to capacity, hovering around the 85% capacity mark.
The Book of Mormon
continues to blow the rest of the shows out of the water, filling to 102.63% capacity week after week - with a huge average paid admission of $187.37. The newly opened musical
Chaplin
surprised everyone by leaping to 94.06% capacity (up from last week's 75.35%), though average paid admission remains relatively low at $62.16. Unfortunately, the show received poor reviews from the Broadway critics, but as everyone knows, only the out-of-towners read the reviews - New Yorkers like to make up their own mind about shows and instead operate on word-of-mouth from their own social networks, which has been favorable for this show, prior to the critics' reviews delivered this week. This bio-musical about Charlie Chaplin has an open-ended closing date.
Gore Vidal's The Best Man
didn't go out with a bang, but it did have a solid closing week, with the average paid admission nearly hitting the $100 mark. Far less impressive was the first week for the Manhattan Theatre Club production of
An Enemy of the People
, which had an average paid admission of a mere $46.04 this past week. Lower numbers are to be expected given that the play is only in previews, so reviews and word-of-mouth could give it a boost in the next few weeks - this could also speak to the producers papering the theatre, dragging the numbers into the gutter.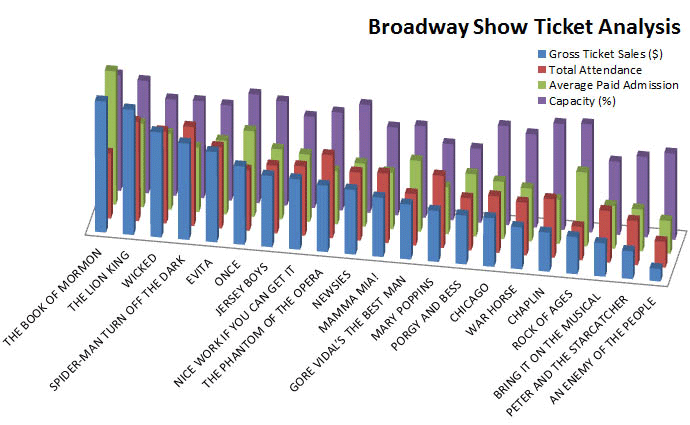 The following are the Broadway ticket sales numbers from the week ending September 9, 2012:
| | | | | |
| --- | --- | --- | --- | --- |
| Show Name | GrossGross | TotalAttn | %Cap | AvgPaidAdmin |
| AN ENEMY OF THE PEOPLE | $158,664 | 3446 | 76.44% | $46.04 |
| BRING IT ON THE MUSICAL | $416,594 | 6922 | 64.86% | $60.18 |
| CHAPLIN | $488,740 | 7863 | 94.06% | $62.16 |
| CHICAGO | $609,315 | 7582 | 87.75% | $80.36 |
| EVITA | $1,127,304 | 10893 | 84.47% | $103.49 |
| GORE VIDAL'S THE BEST MAN | $685,991 | 6899 | 81.13% | $99.43 |
| JERSEY BOYS | $891,077 | 9064 | 92.26% | $98.31 |
| MAMMA MIA! | $741,090 | 9333 | 77.88% | $79.41 |
| MARY POPPINS | $637,053 | 9692 | 67.42% | $65.73 |
| NEWSIES | $808,755 | 9138 | 95.59% | $88.50 |
| NICE WORK IF YOU CAN GET IT | $878,834 | 9307 | 80.85% | $94.43 |
| ONCE | $979,937 | 8145 | 96.23% | $120.31 |
| PETER AND THE STARCATCHER | $347,198 | 5919 | 71.28% | $58.66 |
| PORGY AND BESS | $610,897 | 6986 | 65.41% | $87.45 |
| ROCK OF AGES | $463,916 | 4470 | 95.84% | $103.78 |
| SPIDER-MAN TURN OFF THE DARK | $1,204,959 | 13283 | 86.03% | $90.71 |
| THE BOOK OF MORMON | $1,639,848 | 8752 | 102.63% | $187.37 |
| THE LION KING | $1,566,963 | 13351 | 99.52% | $117.37 |
| THE PHANTOM OF THE OPERA | $829,896 | 11134 | 86.71% | $74.54 |
| WAR HORSE | $525,232 | 7069 | 82.66% | $74.30 |
| WICKED | $1,313,195 | 12350 | 85.34% | $106.33 |
| Total: | $16,925,456 | 181598 | 84.49% | $90.42 |
*Broadway Grosses provided courtesy of The Broadway League