Broadway Show Ticket Sales w/e 9/23/2012
This Week On Broadway, Newsies And Once See Slight Decline In Capacity Following Rosh Hashanah Week, Other Shows Like The Book Of Mormon And Wicked Experienced Minor Revenue Increases
---
Cinderella Shows See Slight Decrease on Broadway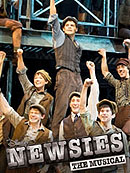 Newsies and Once, both Cinderella stories over the summer, have seen slight declines in business this post Rosh Hashanah week (both saw over 3% decrease in their total capacity). Whether or not this bodes ill for these new musicals going forward remains to be seen, but it could be that the post-Tony Awards buzz is starting to wear off- The departure of Jeremy Jordan probably didn't help, but his inclusion into NBC's "Smash" may raise awareness of his roots.
The longer-running Broadway show hits The Book of Mormon, Jersey Boys, and Wicked all experienced slight upturns in revenue, proving the value of having a well-marketed, much-buzzed-about "brand name" to sell to tourists who are looking for a title they recognize (but have probably already seen Phantom, Chicago and Mamma Mia!). Porgy and Bess received its anticipated last minute buying spree and closed with a strong 87% full and $96 average ticket paid, it actually placed ninth in highest grossing Broadway show this week - not bad for this new perspective on Gershwin's classic. Its run was rocky, but encouraging - as it did recoup its investment.
Some Shows are Facing Challenges
An Enemy of the People's struggle continues, as its average paid admission went down from an already low $44.74 last week to $39.35 this week. The other new production of a classic play to recently start performances, Cyrano de Bergerac, is also having difficulties, with its capacity falling from 74.39% to 66.27%. However, Cyrano did at least see an increase in average paid admission from $38.16 to $46.41, less papering and more paid audience. Does papering a Broadway show actually save a show, or does it create the air of desperation from which a show can never recover?
The Following are the Broadway Ticket Sales Numbers from the Week Ending September 23, 2012: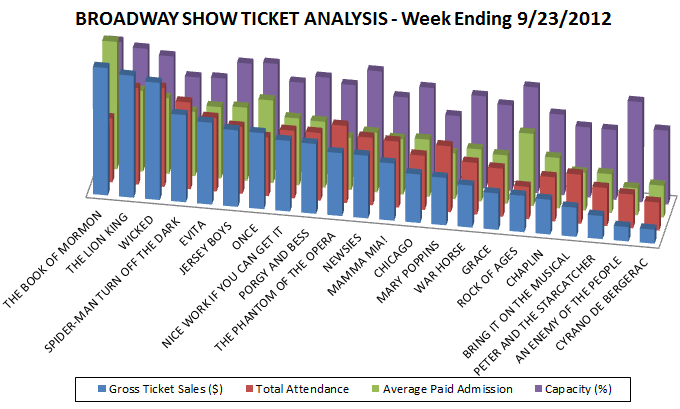 | | | | | |
| --- | --- | --- | --- | --- |
| Show Name | GrossGross | TotalAttn | %Cap | AvgPaidAdm |
| AN ENEMY OF THE PEOPLE | $182,194 | 4,630 | 89.87% | $39.35 |
| BRING IT ON THE MUSICAL | $371,851 | 6,724 | 63.01% | $55.30 |
| CHAPLIN | $444,259 | 6,045 | 72.31% | $73.49 |
| CHICAGO | $619,591 | 7,425 | 85.94% | $83.45 |
| CYRANO DE BERGERAC | $178,864 | 3,854 | 66.27% | $46.41 |
| EVITA | $1,045,494 | 10,058 | 77.99% | $103.95 |
| GRACE | $465,332 | 6,601 | 76.47% | $70.49 |
| JERSEY BOYS | $976,415 | 9,171 | 93.35% | $106.47 |
| MAMMA MIA! | $729,744 | 9,040 | 75.43% | $80.72 |
| MARY POPPINS | $604,542 | 9,026 | 62.79% | $66.98 |
| NEWSIES | $800,484 | 9,249 | 96.75% | $86.55 |
| NICE WORK IF YOU CAN GET IT | $902,213 | 9,252 | 80.37% | $97.52 |
| ONCE | $970,686 | 8,060 | 95.23% | $120.43 |
| PETER AND THE STARCATCHER | $294,536 | 5,203 | 62.66% | $56.61 |
| PORGY AND BESS | $891,566 | 9,281 | 86.90% | $96.06 |
| ROCK OF AGES | $464,585 | 4,412 | 94.60% | $105.30 |
| SPIDER-MAN TURN OFF THE DARK | $1,113,184 | 11,874 | 76.90% | $93.75 |
| THE BOOK OF MORMON | $1,626,122 | 8,752 | 102.63% | $185.80 |
| THE LION KING | $1,555,752 | 13,222 | 98.55% | $117.66 |
| THE PHANTOM OF THE OPERA | $803,236 | 10,566 | 82.29% | $76.02 |
| WAR HORSE | $535,858 | 7,067 | 82.64% | $75.83 |
| WICKED | $1,495,735 | 13,562 | 93.71% | $110.29 |
| Total: | $17,072,241 | 183,074 | 82.57% | $88.56 |
*Broadway Grosses provided courtesy of The Broadway League