Broadway Show Ticket Sales Analysis w/e 9/15/2013
Broadway Show Ticket Sales Analysis For Week Ending 09/15/2013 Shows A Minor Increase In Ticket Sales And The Glass Menagerie Is Off To A Promising Start
---
Minor Increase In Broadway Sales

After a significant drop in Broadway ticket revenue last week, sales are up this week, but only by less than $200,000. The numbers rose from the previous week's overall take of $18,374,969 up slightly to $18,556,316.
"The Glass Menagerie" Off To A Healthy Start
Now in its second week of previews, the revival of Tennessee Williams' classic drama The Glass Menagerie starring Cherry Jones (Doubt) and Zachary Quinto (the Star Trek movies) is doing fairly good ticket sales, especially for a play. This week the production filled the theater to 91.32% capacity, with its average paid admission at $81.93 per ticket.
Last Dance For "Forever Tango"

The limited run production of the dance revueForever Tango concluded this past Sunday with less-than-stellar ticket sales. At 54.67% capacity, the theater was only a little more than half full, and average paid admission was just $54.22.
The following are the Broadway ticket sales numbers from the week ending September 15, 2013: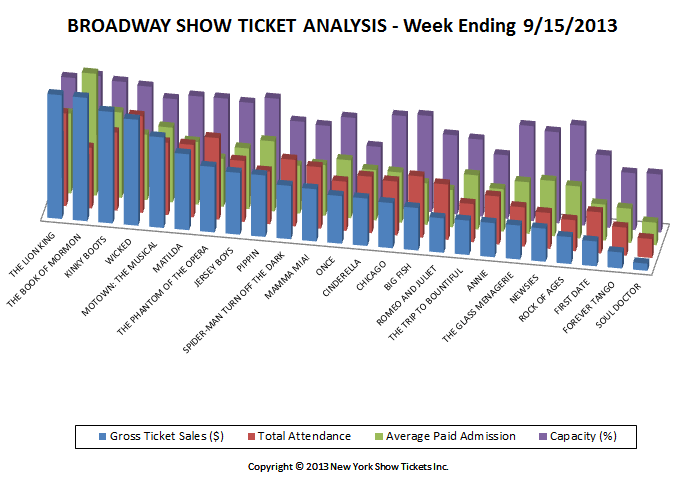 | | | | | |
| --- | --- | --- | --- | --- |
| Show Name | GrossGross | TotalAttn | %Cap | AvgPdAdm |
| ANNIE | $467,612 | 6,941 | 61.06% | $67.37 |
| BIG FISH | $582,583 | 8,836 | 92.34% | $65.93 |
| CHICAGO | $618,659 | 7,787 | 90.13% | $79.45 |
| CINDERELLA | $650,464 | 8,162 | 58.27% | $79.69 |
| FIRST DATE | $340,514 | 5,942 | 69.48% | $57.31 |
| FOREVER TANGO | $220,070 | 4,059 | 54.67% | $54.22 |
| JERSEY BOYS | $847,978 | 8,815 | 89.73% | $96.20 |
| KINKY BOOTS | $1,529,670 | 11,288 | 99.09% | $135.51 |
| MAMMA MIA! | $716,290 | 8,886 | 74.15% | $80.61 |
| MATILDA | $1,041,882 | 10,485 | 91.52% | $99.37 |
| MOTOWN: THE MUSICAL | $1,241,903 | 10,476 | 86.89% | $118.55 |
| NEWSIES | $454,268 | 5,191 | 87.61% | $87.51 |
| ONCE | $653,560 | 7,121 | 84.05% | $91.78 |
| PIPPIN | $843,779 | 7,601 | 95.97% | $111.01 |
| ROCK OF AGES | $368,747 | 4,474 | 95.93% | $82.42 |
| ROMEO AND JULIET | $471,807 | 8,010 | 75.91% | $58.90 |
| SOUL DOCTOR | $97,659 | 2,736 | 55.68% | $35.69 |
| SPIDER-MAN TURN OFF THE DARK | $731,212 | 9,620 | 75.96% | $76.01 |
| THE BOOK OF MORMON | $1,691,518 | 8,752 | 102.63% | $193.27 |
| THE GLASS MENAGERIE | $465,685 | 5,684 | 91.32% | $81.93 |
| THE LION KING | $1,697,637 | 13,408 | 98.59% | $126.61 |
| THE PHANTOM OF THE OPERA | $898,375 | 11,783 | 91.77% | $76.24 |
| THE TRIP TO BOUNTIFUL | $471,537 | 5,505 | 73.98% | $85.66 |
| WICKED | $1,452,909 | 13,995 | 96.70% | $103.82 |
| Totals: | $18,556,316 | 195,557 | 83.06% | $89.38 |
Broadway ticket sales raw data are provided courtesy of The Broadway League All other data, text, opinion, charts and commentary are copyright © 2012 nytix.com