Broadway Show Ticket Sales Analysis w/e 8/11/2013
Broadway Sees A Small Increase This Week, Total Revenue Edges Up By $200,000, Old Favorites Like The Lion King And Wicked Dominate While The Nance Concludes Its Run With Decent Numbers
---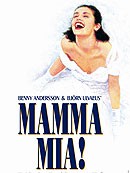 Very Small Increase in Broadway Sales
Total Broadway ticket revenue increased this week, though it wasn't anything to get too excited about, as the amount was rather small. The previous week's $23,104,021 was beat by a little over $200,000 this week, with the total of Broadway ticket sales coming in at $23,335,894.
Old Favorites Continue to Pack the Audience In
Though newcomers like Kinky Boots and Motown the Musical are wowing Broadway audiences, it is long-running shows like The Lion King and Wicked that continue to top the charts each week. Furthermore, long-runners such as Mamma Mia, Rock of Ages, and The Phantom of the Opera are still doing very well, each enjoying over 90% attendance and average paid admissions of $90 or more.
The Nance Concludes Run with Decent Numbers
The original new play The Nance, starring Nathan Lane, ended its run on August 11. Despite featuring one of Broadway's biggest and -- usually -- most bankable stars, the show never did particularly well at the box office. In its final week, The Nance did respectably, if not impressively, bringing in a total of $444,605 with 81.17% attendance.
The Following are the Broadway Ticket Sales Numbers from the Week Ending August 11, 2013: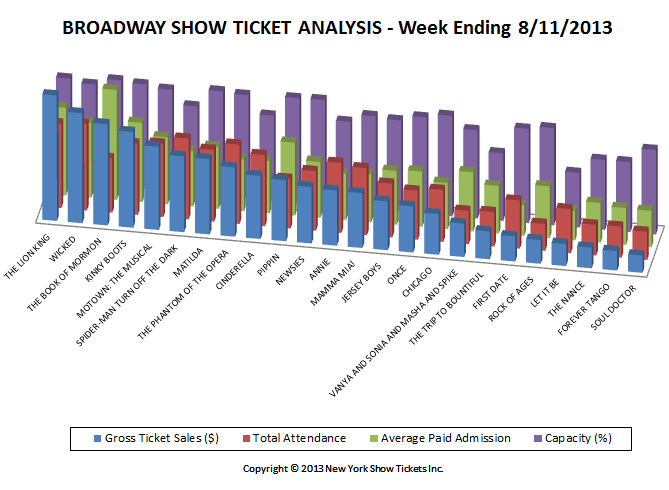 | | | | | |
| --- | --- | --- | --- | --- |
| Show Name | GrossGross | TotalAttn | %Cap | AvgPdAdm |
| ANNIE | $907,382 | 11,033 | 80.75% | $82.24 |
| CHICAGO | $728,309 | 8,608 | 99.63% | $84.61 |
| CINDERELLA | $1,091,550 | 11,478 | 81.94% | $95.10 |
| FIRST DATE | $416,131 | 7,163 | 83.76% | $58.09 |
| FOREVER TANGO | $384,407 | 5,216 | 70.26% | $73.70 |
| JERSEY BOYS | $855,282 | 8,902 | 90.61% | $96.08 |
| KINKY BOOTS | $1,632,911 | 11,480 | 100.77% | $142.24 |
| LET IT BE | $365,570 | 5,780 | 42.93% | $63.25 |
| MAMMA MIA! | $1,002,632 | 11,102 | 92.64% | $90.31 |
| MATILDA | $1,313,384 | 11,538 | 100.72% | $113.83 |
| MOTOWN: THE MUSICAL | $1,476,600 | 12,126 | 100.58% | $121.77 |
| NEWSIES | $958,460 | 9,503 | 100.24% | $100.86 |
| ONCE | $762,161 | 7,632 | 90.08% | $99.86 |
| PIPPIN | $1,057,057 | 8,023 | 101.30% | $131.75 |
| ROCK OF AGES | $407,743 | 4,304 | 92.28% | $94.74 |
| SOUL DOCTOR | $197,157 | 4,824 | 86.39% | $40.87 |
| SPIDER-MAN TURN OFF THE DARK | $1,106,734 | 11,573 | 85.66% | $95.63 |
| THE BOOK OF MORMON | $1,747,273 | 8,752 | 102.63 | $199.64 |
| THE LION KING | $2,149,242 | 13,605 | 100.04% | $157.97 |
| THE NANCE | $444,605 | 5,948 | 81.17% | $74.75 |
| THE PHANTOM OF THE OPERA | $1,232,628 | 12,973 | 101.04% | $95.01 |
| THE TRIP TO BOUNTIFUL | $489,212 | 5,799 | 68.19% | $84.36 |
| VANYA AND SONIA AND MASHA AND SPIKE | $556,185 | 5,375 | 85.37% | $103.48 |
| WICKED | $2,053,281 | 15,614 | 95.90% | $131.50 |
| TOTALS | $23,335,894 | 218,351 | 88.95% | $101.32 |
Broadway ticket sales raw data are provided courtesy of The Broadway League All other data, text, opinion, charts and commentary are copyright © 2012 nytix.com
Discount Broadway Tickets
---
---