Broadway Show Ticket Sales Analysis w/e 7/28/2013
This Week On Broadway Ticket Sales See A Half Million Jump In Revenue, Soul Doctor Gains An Audience, But Unfortunately At Low Prices, The Lion King And Wicked Top The $2 Million Mark
---
Broadway Ticket Sales Up this Week
We're into the dead of summer now, and Broadway shows keep packing in the audiences. This week saw a half million jump in sales, with total ticket revenue going from the previous week's $23,614,761 up to $24,169,058.
Soul Doctor Has Good Attendance, But at Low Prices
The new Broadway musical Soul Doctor, in its second week on the charts and still in previews, is showing impressive attendance for a brand new musical. The show was at 85.70% capacity last week, and up to 89.23% this week. However, the people in the seats don't appear to be paying much for their tickets, with the latest average paid admission at a paltry $34.87 per ticket.
Two Broadway Tuners Top Two Million
Eight Broadway shows made it past the million mark this week, but two actually climbed past two million. Naturally it was the duo that are usually at the top of the charts, The Lion King (the top earner, at $2,155,758) and Wicked ($2,088,425).
The Following are the Broadway Ticket Sales Numbers from the Week Ending July 28, 2013: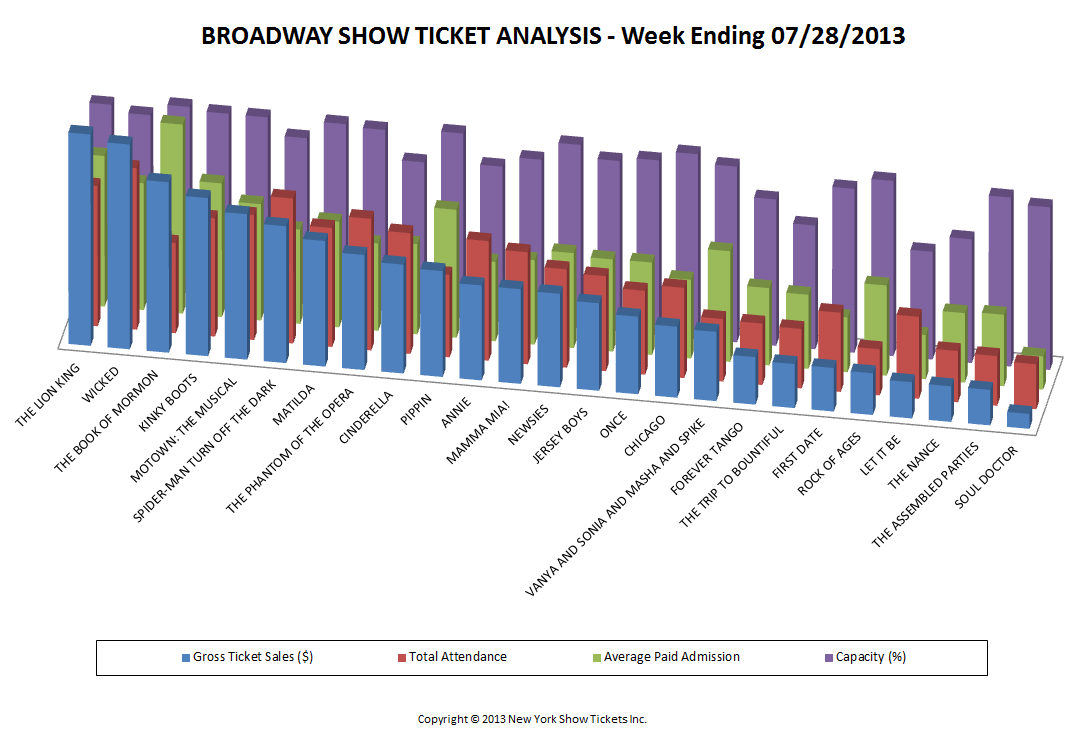 | | | | | |
| --- | --- | --- | --- | --- |
| Show Name | GrossGross | TotalAttn | %Cap | AvgPdAdm |
| ANNIE | $968,295 | 11,612 | 84.98% | $83.39 |
| CHICAGO | $723,859 | 8,752 | 101.30% | $82.71 |
| CINDERELLA | $1,110,515 | 11,713 | 83.62% | $94.81 |
| FIRST DATE | $443,723 | 7,685 | 89.86% | $57.74 |
| FOREVER TANGO | $483,889 | 5,959 | 80.27% | $81.20 |
| JERSEY BOYS | $892,625 | 9,214 | 93.79% | $96.88 |
| KINKY BOOTS | $1,612,845 | 11,480 | 100.77% | $140.49 |
| LET IT BE | $369,391 | 7,962 | 59.14% | $46.39 |
| MAMMA MIA! | $965,481 | 10,870 | 90.70% | $88.82 |
| MATILDA | $1,280,729 | 11,542 | 100.75% | $110.96 |
| MOTOWN: THE MUSICAL | $1,483,470 | 12,132 | 100.63% | $122.28 |
| NEWSIES | $953,590 | 9,548 | 100.72% | $99.87 |
| ONCE | $790,372 | 8,133 | 96.00% | $97.18 |
| PIPPIN | $1,079,397 | 8,022 | 101.29% | $134.55 |
| ROCK OF AGES | $425,397 | 4,482 | 96.10% | $94.91 |
| SOUL DOCTOR | $152,026 | 4,360 | 89.23% | $34.87 |
| SPIDER-MAN TURN OFF THE DARK | $1,395,940 | 14,072 | 91.14% | $99.20 |
| THE ASSEMBLED PARTIES | $361,826 | 4,820 | 92.69% | $75.07 |
| THE BOOK OF MORMON | $1,738,664 | 8,752 | 102.63% | $198.66 |
| THE LION KING | $2,155,758 | 13,605 | 100.04% | $158.45 |
| THE NANCE | $363,658 | 4,974 | 67.88% | $73.11 |
| THE PHANTOM OF THE OPERA | $1,173,574 | 12,775 | 99.49% | $91.86 |
| THE TRIP TO BOUNTIFUL | $449,395 | 5,771 | 67.86% | $77.87 |
| VANYA AND SONIA AND MASHA AND SPIKE | $706,215 | 6,069 | 96.39% | $116.36 |
| WICKED | $2,088,425 | 15,664 | 96.21% | $133.33 |
| Totals: | $24,169,058 | 229,968 | 91.34% | $99.64 |
Broadway ticket sales raw data are provided courtesy of The Broadway League All other data, text, opinion, charts and commentary are copyright © 2012 nytix.com
Discount Broadway Tickets
---
---