Broadway Show Ticket Sales Analysis w/e 5/18/2014
Broadway Show Ticket Sales Analysis For Week End 05/1/8/2014 With Bridges Of Madison County And All The Way Performing Well In Competitive Environment.
---
"The Bridges Of Madison County" Ends On A High Note

The Bridges of Madison County concluded its run on Sunday, May 18, 2014 due to slow ticket sales. However, the announcement of its closing appears to have attracted last-minute ticket buyers who wanted to see the show while they still had a chance. The show reached its highest gross of its four-month run this past week, earning $590,791, which was an increase of $197,805 from the previous week.
Its second-highest-grossing week was the week ending March 16, 2014, where it grossed $476,374. In this past week, the average ticket price was $73.71, which was almost the highest it has been (with the exception of two weeks), proving that audience members were willing to spend a lot of money for the opportunity to see this show.
Stiff Competition On Broadway
This proves that slow ticket sales do not necessarily denote a lack of interest in a show; it may just mean that with so much competition on Broadway, a show may not get seen if it doesn't break through to first or second priority, especially for tourists on vacation.
Furthermore, as successful musicals tend to be long-running, ticket buyers may have expected this show to be around for a while, and when closing was announced, they took advantage of the limited time to buy a ticket.
"All The Way" Hitting It Big

This past week, Robert Schenkkan's play All the Way grossed $1,045,860, which was an increase of $217,564 from the previous week. Starring Bryan Cranston as Lyndon B. Johnson, this play just won the Drama League Award for Best Play.
Perhaps the press about this win explains the upsurge in ticket buying, or perhaps interest in this popular show just happened to crescendo this past week, but in any case, this illustrates that All the Way is a strong contender for the Tony Award for Best Play, which will be announced in just a few more weeks.
On The Road To A Win
Its competitors for that honor are Casa Valentina, Outside Mullingar, Act One, and Mothers and Sons. Outside Mullingar has already closed, and the other three plays saw modest to no increase in ticket sales this past week. If financial data has anything to do with awards recognition, then All the Way may just make it "all the way" to the big win.
The following are the Broadway ticket sales numbers for the week ending May 18, 2014: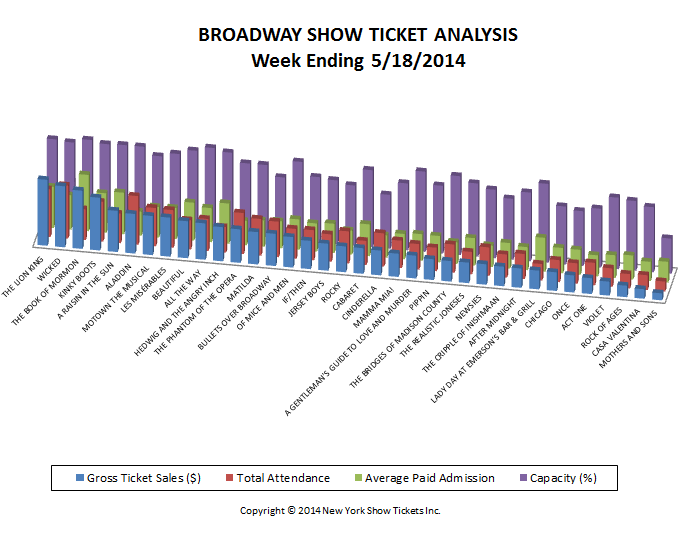 | | | | | |
| --- | --- | --- | --- | --- |
| Show | GrossGross | Total Attn | %Cap | AvgPdAdm |
| A GENTLEMAN'S GUIDE TO LOVE AND MURDER | $656,020 | 7,261 | 100.07% | $90.35 |
| A RAISIN IN THE SUN | $1,183,010 | 8,368 | 100.00% | $141.37 |
| ACT ONE | $454,330 | 6,349 | 73.21% | $71.56 |
| AFTER MIDNIGHT | $555,630 | 7,096 | 85.62% | $78.30 |
| ALADDIN | $1,137,093 | 13,788 | 100.03% | $82.47 |
| ALL THE WAY | $1,045,860 | 9,059 | 106.18% | $115.45 |
| BEAUTIFUL | $1,063,319 | 8,272 | 100.78% | $128.54 |
| BULLETS OVER BROADWAY | $925,374 | 10,071 | 77.23% | $91.88 |
| CABARET | $735,777 | 6,817 | 96.07% | $107.93 |
| CASA VALENTINA | $272,793 | 4,174 | 81.02% | $65.36 |
| CHICAGO | $536,505 | 6,231 | 72.12% | $86.10 |
| CINDERELLA | $713,599 | 9,420 | 67.25% | $75.75 |
| HEDWIG AND THE ANGRY INCH | $983,206 | 7,214 | 102.34% | $136.29 |
| IF/THEN | $812,712 | 8,547 | 81.49% | $95.09 |
| JERSEY BOYS | $776,136 | 7,808 | 79.48% | $99.40 |
| KINKY BOOTS | $1,514,754 | 11,307 | 99.25% | $133.97 |
| LADY DAY AT EMERSON'S BAR & GRILL | $540,517 | 4,696 | 98.37% | $115.10 |
| LES MISÉRABLES | $1,123,088 | 10,698 | 94.91% | $104.98 |
| MAMMA MIA! | $667,885 | 7,784 | 83.45% | $85.80 |
| MATILDA | $930,186 | 10,404 | 90.82% | $89.41 |
| MOTHERS AND SONS | $198,925 | 2,815 | 43.87% | $70.67 |
| MOTOWN THE MUSICAL | $1,124,866 | 10,854 | 90.03% | $103.64 |
| NEWSIES | $588,306 | 8,084 | 85.27% | $72.77 |
| OF MICE AND MEN | $875,771 | 8,463 | 98.59% | $103.48 |
| ONCE | $490,998 | 5,781 | 68.24% | $84.93 |
| PIPPIN | $598,091 | 6,684 | 84.39% | $89.48 |
| ROCK OF AGES | $330,603 | 4,045 | 86.73% | $81.73 |
| ROCKY | $742,525 | 9,098 | 75.02% | $81.61 |
| THE BOOK OF MORMON | $1,673,283 | 8,752 | 102.63% | $191.19 |
| THE BRIDGES OF MADISON COUNTY | $590,791 | 8,015 | 98.32% | $73.71 |
| THE CRIPPLE OF INISHMAAN | $563,894 | 6,514 | 75.89% | $86.57 |
| THE LION KING | $1,896,455 | 13,530 | 99.49% | $140.17 |
| THE PHANTOM OF THE OPERA | $962,919 | 11,656 | 90.78% | $82.61 |
| THE REALISTIC JONESES | $590,378 | 6,360 | 91.17% | $92.83 |
| VIOLET | $403,042 | 5,226 | 89.00% | $77.12 |
| WICKED | $1,755,218 | 15,036 | 97.48% | $116.73 |
| Totals: | $30,013,854 | 296,277 | 87.96% | $98.45 |
Broadway ticket sales raw data are provided courtesy of The Broadway League All other data, text, opinion, charts and commentary are copyright © 2014 nytix.com