Broadway Show Ticket Sales Analysis w/e 5/04/2014
Broadway Show Ticket Sales Analysis For Week Ending 05/04/2014 Overall Slow Week On Broadway Except For Shows That Received Tony Award Nominations.
---
Tony Nominations Increase Sales

This past week was a slow one on Broadway overall; however, shows that received Tony Award nominations – especially for Best Musical – saw a jump in sales. Because it is not always the case that nominations spur sales, it is not clear exactly what caused this year's jump for nominated shows.
In addition to news coverage and press announcements about the nominations, it is likely that ticket buyers were persuaded by the advertising efforts of producers who touted the nominations online and in print ads. Furthermore, many individuals may have not been aware that certain shows were even running until the high volume of publicity picked up around the nominations.
"A Gentleman's Guide To Love And Murder" Received Tony Nominations In 10 Categories
A Gentleman's Guide to Love and Murder led the list of Tony nominated shows, with nominations in 10 categories including Best Musical. Theatregoers responded to this announcement, as last week's sales increased to $580,279, a 23% jump from the previous week, and the highest weekly gross yet in the show's six and a half month run.
Furthermore, a spokesperson for the show said that they also grossed $1.3 million in advance sales following the nominations announcement. Another show that received a nomination for Best Musical – After Midnight – saw a jump of 7% and reached a weekly gross of $523,053. A third nominee for that category – Beautiful: The Carole King Musical – set a box office record at the Stephen Sondheim Theatre with a weekly gross of $1,036,646. Though the fourth nominee, Aladdin, was down slightly from the prior week, it still grossed an impressive $1,176,765.
Broadway Shows On Their Last Legs See Further Decrease In Sales
Furthermore, Hedwig and the Angry Inch, which received the second highest number of nominations including one for Best Revival of a Musical, grossed $993,474, which is a 30% increase from the previous week and a box office record at the Belasco Theatre. In addition, after being nominated for Best Play, Casa Valentina also saw a 30% jump to the still modest gross of $275,997.
However, the reverse also held true, as shows on their last legs who failed to receive key nominations were only hurt further by the lack of appreciation from the Tony nominating committee. The Bridges of Madison County, for instance, saw a decrease of $64,998 after failing to be nominated for Best Musical, even after they announced they will be closing on May 18, 2014.
The following are the Broadway ticket sales numbers for the week ending May 4, 2014: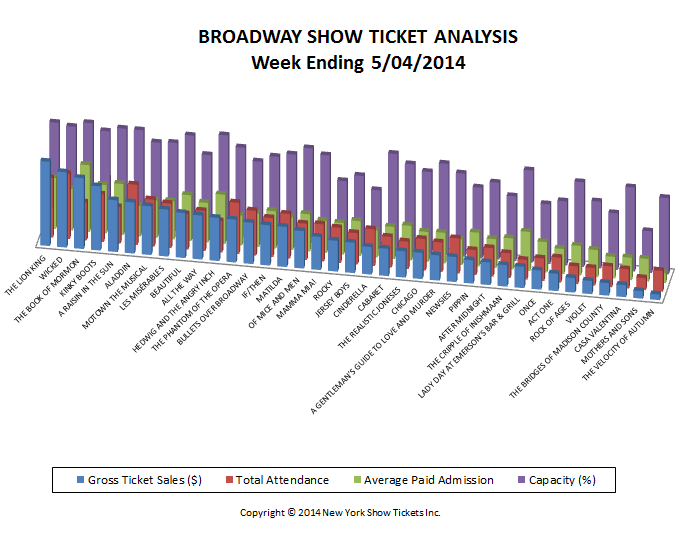 | | | | | |
| --- | --- | --- | --- | --- |
| Show | GrossGross | Total Attn | %Cap | AvgPdAdm |
| A GENTLEMAN'S GUIDE TO LOVE AND MURDER | $580,279 | 6,770 | 93.30% | $85.71 |
| A RAISIN IN THE SUN | $1,190,876 | 8,368 | 100.00% | $142.31 |
| ACT ONE | $398,834 | 5,695 | 65.67% | $70.03 |
| AFTER MIDNIGHT | $523,053 | 6,510 | 78.55% | $80.35 |
| ALADDIN | $1,176,765 | 13,782 | 99.99% | $85.38 |
| ALL THE WAY | $1,014,071 | 9,177 | 80.67% | $110.50 |
| BEAUTIFUL | $1,036,646 | 8,130 | 99.05% | $127.51 |
| BULLETS OVER BROADWAY | $950,052 | 10,246 | 78.57% | $92.72 |
| CABARET | $628,491 | 7,007 | 98.75% | $89.69 |
| CASA VALENTINA | $275,997 | 4,429 | 85.97% | $62.32 |
| CHICAGO | $605,077 | 7,204 | 83.38% | $83.99 |
| CINDERELLA | $635,716 | 8,406 | 60.01% | $75.63 |
| HEDWIG AND THE ANGRY INCH | $993,474 | 7,215 | 102.35% | $137.70 |
| IF/THEN | $927,814 | 8,928 | 85.13% | $103.92 |
| JERSEY BOYS | $699,790 | 7,189 | 73.18% | $97.34 |
| KINKY BOOTS | $1,477,550 | 10,914 | 95.80% | $135.38 |
| LADY DAY AT EMERSON'S BAR & GRILL | $490,737 | 4,496 | 94.18% | $109.15 |
| LES MISÉRABLES | $1,080,994 | 10,148 | 90.03% | $106.52 |
| MAMMA MIA! | $763,046 | 8,502 | 91.14% | $89.75 |
| MATILDA | $924,624 | 10,186 | 88.91% | $90.77 |
| MOTHERS AND SONS | $172,916 | 2,743 | 42.75% | $63.04 |
| MOTOWN THE MUSICAL | $1,123,937 | 10,710 | 88.84% | $104.94 |
| NEWSIES | $576,874 | 8,038 | 84.79% | $71.77 |
| OF MICE AND MEN | $864,014 | 8,303 | 96.73% | $104.06 |
| ONCE | $439,851 | 5,179 | 61.13% | $84.93 |
| PIPPIN | $538,721 | 5,698 | 71.94% | $94.55 |
| ROCK OF AGES | $334,369 | 4,046 | 86.75% | $82.64 |
| ROCKY | $707,891 | 8,051 | 66.38% | $87.93 |
| THE BOOK OF MORMON | $1,631,761 | 8,747 | 102.57% | $186.55 |
| THE BRIDGES OF MADISON COUNTY | $286,948 | 4,729 | 58.01% | $60.68 |
| THE CRIPPLE OF INISHMAAN | $493,595 | 5,682 | 66.19% | $86.87 |
| THE LION KING | $1,940,102 | 13,602 | 100.01% | $142.63 |
| THE PHANTOM OF THE OPERA | $988,317 | 11,739 | 91.43% | $84.19 |
| THE REALISTIC JONESES | $605,288 | 6,256 | 89.68% | $96.75 |
| THE VELOCITY OF AUTUMN | $130,333 | 4,752 | 78.26% | $27.43 |
| VIOLET | $303,237 | 4,020 | 68.46% | $75.43 |
| WICKED | $1,732,110 | 14,910 | 97.43% | $116.17 |
| Totals: | $29,244,147 | 290,507 | 83.68% | $95.87 |
Broadway ticket sales raw data are provided courtesy of The Broadway League All other data, text, opinion, charts and commentary are copyright © 2014 nytix.com